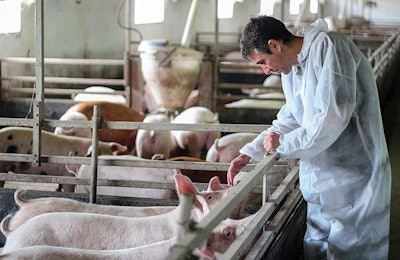 Drop in prices for live swine also causes some producers to delay restocking
A resurgence of African swine fever (ASF) in China is delaying the expansion of the country's swine herd, according to the U.S. Department of Agriculture (USDA).
A new report from the USDA Foreign Agricultural Service (FAS) says China's swine numbers are not likely to rebound until at least mid-2021 due to the outbreak.
"In late 2020, a resurgence of ASF reduced China's population of breeding sows and piglets. These losses continued through the first quarter of 2021 as ASF outbreaks were reported in multiple provinces," the report said.
China's first ASF outbreak was reported in August 2018. Up to mid-February 2021, there had been 190 outbreaks in 32 of the country's regions (including Hong Kong), according to the World Organisation for Animal Health (OIE). More than 400,000 pigs have been directly affected by these outbreaks.
A recent outbreak of ASF in the Inner Mongolia autonomous region led to 343 mortalities among the 432 pigs at a farm in the Batou city region. Local authorities immediately initiated emergency response to cull and dispose of the remaining animals, and to ban movements of pigs in the area.
This outbreak brings the country's total so far this year to 10, all in domestic pigs. Approximately 2,100 animals were directly affected by these outbreaks.
After a period of apparent recovery from the virus, China began to see a resurgence in November and December 2020.
"Chinese veterinary institutes identified new strains of ASF, which due to lower virulency and lethality were able to spread to a larger portion of the herd before being detected," USDA said. "Reports noted that the new ASF strains appeared to cause lameness in breeding sows and increased the piglet mortality rate."
The mortality rate and/or culling of breeding sows during this time ranged from 20% to 50%.
In an effort to quickly rebuild the pig herd in China, swine producers introduced commercial gilts into the breeding sow population, but this lowered the overall productivity levels of the breeding sow herd.
"Additionally, while certain provinces implemented movement restrictions on live swine, the movements of breeding sows and piglets were not restricted. On April 16, 2021, (the Ministry of Agriculture and Rural Affairs) published a notice limiting the transport of live swine between regions that will go into effect on May 1, 2021," USDA said.
The USDA report added that the price for live swine in China declined by almost 36% between January and April 2021, causing some producers to delay restocking.