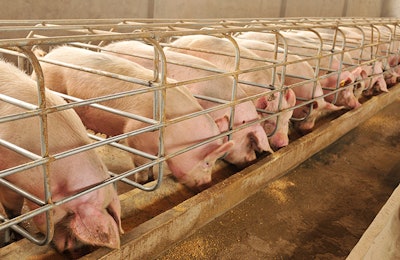 South Africa's total outbreaks of African swine fever (ASF) in domestic pigs now stands at 48.
Over the course of one week, five new outbreaks of African swine fever (ASF) have been officially registered by South Africa's animal health authority.
According to the latest report to the World Organisation for Animal Health (OIE), these have involved the deaths of 584 animals. In addition, 6,368 pigs were culled, and a further 2,147 were sent for early slaughter.
Starting between March 31 and April 9, these outbreaks affected two premises described as "farms." One with 120 pigs was located in Free State, and the other was in Gauteng province and had 639 animals. In addition, ASF virus was detected at three different locations in Emfuleni in Gauteng province. These included two small backyard herds, and in almost 300 animals belonging to households in one village.
There were also further ASF cases at two previously affected premises in the same province, according to the latest official reports.
Based on OIE data, the number of confirmed ASF outbreaks in South Africa since April 2019 now stands at 48. More than 38,600 pigs have been impacted directly by the disease over that time.
Malaysia confirms ASF in eight districts
Although ASF is confined to one state of Malaysia — Sabah on the island of Borneo — cases of the disease have been detected in eight districts.
Affected districts are Pitas, Beluran, Kinabatangan, Lahad Datu, Kota Marudu, Sandakan, Telupid and Tongod, according to Malay Mail. State agriculture minister Jeffrey Kitingan said the virus had also been detected in Tawau and Nabawan districts.
As of April 18, 535 domestic pigs have died, and a further 398 have been culled, he said. So far, no cases have occurred at any of the commercial pig farms located in the Sandakan district.
New measures have been introduced to reduce the risk of further spread of the ASF virus. First, farmers must obtain a health certificate before moving their pigs or pork products to another area. Outlets selling ASF-contaminated meat will be closed for one day for full cleaning and sanitation. Furthermore, a seven-day quarantine will be applied to any farm suspected of supplying ASF-infected meat.
The latest official report from the veterinary authority to the OIE outlines one new outbreak in domestic pigs in Sabah. This occurred at the start of April in 160 pigs belonging to backyard herds in a village in Sandakan. Of these animals, 152 are reported to have died, and 11 were culled to prevent further spread of the infection.
In addition, three wild boar found dead between March 25 and April 9 have also tested positive for the ASF virus.
South Korea reports new ASF cases in wild boar
Between February 7 and April 19, a further 280 ASF-infected wild boar have been located in South Korea. This is according to the veterinary authority's latest report to the OIE.
Based on data from this source, they bring the country's total cases since September 2019 to 1,375 wild boar.
More than 28,700 domestic pigs have also been involved in outbreaks of the disease since that time. The most recent cases on farms were in October 2020.
This month, the agriculture ministry announced increased efforts to control ASF in the wild population ahead of the main breeding season.
Controversial executive order in the Philippines
A recent executive order issued by Philippines President Rodrigo Duterte has been credited with reducing the rate of food price inflation there, reports Philippine News Agency (PNA).
This order involved reducing tariffs on imports of pork to ease the tight supply situation in domestic pork since the start of the ongoing ASF outbreak.
According to Department of Agriculture Secretary William Dar, the order will help to make this staple meat more affordable for Filipinos. It is planned to remain in effect until the country's pig producers can resume full production. However, farming associations say that cheaper imports will slow down the recovery of the nation's pork sector.
Department projections point to a deficit of more than 388,500 metric tons of pig meat. Domestic supplies were estimated at almost 1.23 million metric tons (mmt) in 2021 against projected demand of close to 1.62 mmt.
The president has called on senators to give the order a chance to achieve what it intended, according to PNA.
In the province of South Cotabato, the same source reports official approval has been given to one farming company to expand live pig production by 48%. Biotech Farms says its PHP1.33 billion (US$27.5 million) investment will increase capacity by 54,600 pigs, and annual output to 16,900 mt (live weight).
Part of the Soccsksargen region, South Cotabato is located in the south of the island of Mindanao.
In the region of Northern Mindanao, around 570 farmers in the Iligan City area are set to receive PHP14.6 million. The sum will be distributed in compensation for pigs that were culled last year to halt the spread of ASF.
Furthermore, around PHP4.2 million is destined for owners in Misamis Oriental province in the same region, whose hogs suffered the same fate. According to local officials, in seven districts of this province, around 1,940 hogs belonging to 488 owners have been culled. Outbreaks appear to be linked to one slaughterhouse, and investigations are underway.
To support the country's pig producers and feed millers, PNA reports the Land Bank of the Philippines is doubling its available loans to PHP30 billion to help with the recovery of these sectors from ASF.
ASF-related pig mortality rises in northeastern India
Mortalities of pigs in the state of Mizoram have reached 920, reported Hindustan Times on April 19. First reported around one month previously near to the border with Bangladesh in Lunglei, the disease has now spread to four more districts — Aizawl, Serchhip, Mamit and Siaha.
View our continuing coverage of the global African swine fever situation.