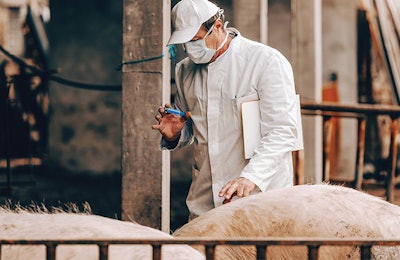 Elsewhere in Asia, new cases of African swine fever have been reported in pigs in China, Indonesia and Malaysia, as well as among South Korea's wild boar population.
First trials with an African swine fever (ASF) vaccine are being conducted on 10 farms in the Philippines, reports Manila Times. Department of Agriculture Secretary William Dar announced the development this week.
So far, no safe and effective vaccines against the disease — which is deadly to members of the pig family — are available anywhere in the world. Dar said that, combined with other efforts by local government, the private sector and pig owners, the vaccine could prove to be a potent tool for the control of ASF.
Scheduled to last 12 weeks, the trial will be overseen by the Bureau of Animal Industry (BAI), and the vaccine manufacturer, Zoetis Philippines Inc. According to this source, this vaccine has prevented pig mortality from ASF in other countries.
Based on information supplied to the World Organisation for Animal Health (OIE), the first ever cases of ASF in the Philippines occurred in July 2019. Up to February of this year, 622 outbreaks had been confirmed in more than 30 of the country's 83 administrative regions. Direct losses of pigs has already exceeded 425,800. Peak incidence was in August 2020, when 1,773 outbreaks were recorded, according to BAI data. Since then, outbreaks have declined. In March, there were 62 cases.
Ongoing outbreaks of ASF have resulted in a shortage of domestic supplies and high prices for pork — a staple food in the Philippines. An executive order issued recently by President Rodrigo Duterte that would allow for increased imports of pig meat has not been universally welcomed.
Over the past week, the Philippine News Agency has reported that Finance Secretary Carlos Dominguez III has given his support to the order. He said additional imports are an effective means to increase supplies of pork for the population, and help control rising food inflation. He accepted that the lowering of import tariffs will represent a financial loss to the government, but stressed that it will bring far greater benefits to the people of the Philippines in terms of lower pork prices. The measures are scheduled to be in effect for a limited period of time.
China registers 10th ASF outbreak this year
An outbreak of ASF has been detected in the Inner Mongolia autonomous region, according to China's agriculture ministry.
There were 343 mortalities among the 432 pigs at a farm in the Batou city region. Local authorities immediately initiated emergency response to cull and dispose of the remaining animals, and to ban movements of pigs in the area.
This outbreak brings the country's total so far this year to 10, all in domestic pigs. Around 2,100 animals were directly impacted by these outbreaks.
China's first ASF outbreak was reported in August of 2018. Up to mid-February of 2021, there had been 190 outbreaks in 32 of the country's regions (including Hong Kong), according to the OIE. Directly impacted by these outbreaks have been just over 400,000 pigs.
Malaysia: only 1 district has daily ASF cases
One week ago, it was reported that cases of ASF have been detected in domestic and wild pigs in eight districts in the state of Sabah. Latest update from the United Nations' Food and Agriculture Organization (FAO) puts the number of affected districts at 10.
This week, Sabah state agriculture minister has said the disease is almost under control. Daily cases are only occurring in Nabawan, according to Borneo Post.
Minister Jeffrey Kitingan said the situation is now stable, and he confirmed that the main pig meat-producing areas of the state are now unaffected by ASF. He attributed this success to efforts by the Department of Veterinary Services in culling infected and at-risk animals.
Other ASF developments in Asia
ASF continues to spread in Indonesia. According to the latest FAO update, pig mortalities over recent months have reached 500 in Manokwari Regency, which is in West Papua Province. Furthermore, local media have reported that ASF has also been detected in South Sulawesi.
In South Korea, ASF has been detected for the first time in a wild boar in Hongcheon, reports FAO. This county is located in Gangwon province, where there have been many previous ASF cases in the wild population. Since the first case in October 2019, South Korea's total registered cases of ASF in wild boar has reached 1,401 cases, according to this source.
In the northeast Indian state of Meghalaya, ASF epicenters have been declared in 10 villages in three districts, reports Sentinel Assam. Affected are the districts of East Khasi Hills, West Khasi Hills, and Ri Bhoi. Movements of live pigs, feed and pork products from these areas are currently banned. Slaughterhouses have halted operations. Vehicles must be disinfected as they leave the infected areas.
Last week, Economic Times reported that four districts has been identified as ASF epicenters in the nearby state of Mizoram. There, more than 1,000 pigs have died of the disease within one month.
ASF spreads in three provinces of South Africa
Over the past week, South Africa's animal health agency has officially registered with the OIE a further seven outbreaks of ASF in pigs.
In Western Cape, outbreaks have been confirmed in four backyard herds in the Cape Town city area. All started in the period March 19-30. They involved a total of 190 pigs from herds ranging from 23 to 98 animals.
Latest cases bring to 18 the number of outbreaks in this series, which began on February 10 and came after another series that was considered to have ended the previous month. Pigs involved total 823, including 255 deaths, and 280 animals culled.
A second ASF outbreak series in South Africa has been progressing over the past two years. It has now reached 51 outbreaks involving almost 39,000 pigs.
In the period April 12-16, three new outbreaks were recorded with the OIE. Directly impacting a total of 145 pigs, these impacted two small farms in Gauteng (in Ekurhuleni and Johannesburg), and a backyard herd in in the municipality of Moqhaka, which is located in Free State.
View our continuing coverage of the global African swine fever situation.