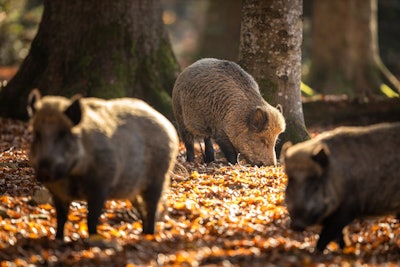 3 states have registered new cases of African swine fever among domestic pigs
As the number of wild boar in Germany infected with the African swine fever (ASF) virus passed a significant milestone of 1,000, a new role has been created to support disease control efforts. These have contributed to the now more than 5,000 wild animals infected with the disease across Europe.
In mid-April, the federal agriculture ministry in Germany announced that Parliamentary State Secretary Uwe Feiler will become a political contact for this disease crisis. His main role will be to coordinate the fight against ASF at the levels of state politics and local authorities. In his new role, Feiler will support federal agriculture minister Julia Klöckner, and state secretary Beate Kasch, who heads the national Central Animal Epidemics Crisis Unit.
This latest appointment was made against a growing ASF crisis among Germany's wild boar population in two eastern states.
Since the country's first outbreak in September 2020, the number of ASF cases now stands at 1,060, according to the national veterinary agency, the Friedrich-Loeffler Institute. This total was reached on April 26.
With 931 confirmed cases since September 2020, the eastern state of Brandenburg continues to bear the brunt of ASF infections (also as of April 26). Positive cases have been detected in five districts, according to the agriculture ministry. Of the total, 537 cases have been found in Oder-Spree, making this the worst-affected district for ASF-infected wild boar in Germany.
Neighboring Saxony is the only other state where ASF-positive cases have been detected among wild boar. On April 23, this total had reached 131. This is an increase of 61 since April 6, reports the agriculture ministry. All infected cases so far have been found in the district of Görlitz.
According to Schweine.net, last week saw discussions between the German federal and Brandenburg state governments' crisis management teams about ASF control measures. In Saxony, the latest initiative is to focus on finding and safely disposing of wild boar carcasses. Specially trained dogs from another part of the country are being used to locate remains of animals that may have died from the disease.
Germany's domestic pigs have so far remained free of ASF.
European wild boar: cases exceed milestone of 5,000
As of April 18, the European Commission (EC) Animal Disease Notification System had registered 5,049 outbreaks of ASF among European wild boar so far this year. This is an increase of 542 from the situation two weeks previously. During the whole of 2020, total cases of ASF in Europe's wild boar recorded through this system reached 11,027.
In Europe, Hungary has been worst affected, recording 1,674 outbreaks for the year in 2021 — an increase of 131 from the previous EC report. Next are Poland with 1,178 outbreaks, followed by Slovakia (715), Germany (596), Romania (572) and Bulgaria (150). Republic of Serbia has registered its first cases of the year through the EC. Cases have also been confirmed in four other European states this year — Estonia, Italy, Latvia and Lithuania — but their national totals stand well below 100.
Since mid-April, Hungary's veterinary authority has officially registered 282 new cases of ASF in wild boar with the World Organisation for Animal Health (OIE). All animals were found in northern and northwestern counties that share borders with Slovakia or Ukraine.
Also officially registering new cases with the OIE over this period were Germany (338 wild boar), Romania (17) and Latvia (15).
After a two-month hiatus, Ukraine's animal health agency has recorded with the OIE the first ASF virus-positive wild boar found in a Kiev forest.
Most recent report from Poland's chief veterinary officer puts the nation's ASF cases in the wild population so far this year at 1,175 (as of April 19). The most recent 88 outbreaks involved 152 animals in seven provinces. Wild boar were found between March 15 and April 8. Worst affected is the western province of Lubusz, where 761 outbreaks have been confirmed already in 2021.
Further ASF outbreaks in domestic pigs in three European countries
The latest update from the EC puts the number of ASF outbreaks in domestic pigs so far this year at 402, as of April 18.
This is an increase of 38 from the previous two-week period. Of these, 22 were in Romania, bringing the country's total to 365 so far this year. Serbia has now recorded 32 outbreaks. Making up the total are four outbreaks in Ukraine, and one in Poland (in mid-March).
With the OIE, Romania's veterinary authority has registered two new outbreaks. Involving just seven pigs in total, both outbreaks were in backyard herds in centrally located counties.
View our continuing coverage of the global African swine fever situation.