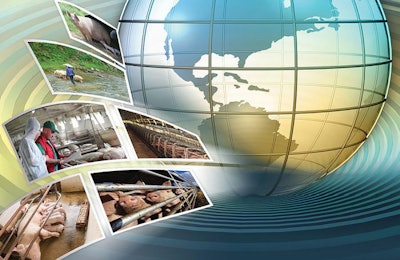 NPPC leaders also address safety measures that will be in place at World Pork Expo
The National Pork Producers Council (NPPC) is focused on legislation that would expand market access to Vietnam, address an agriculture labor shortage and prevent foreign animal disease (FAD) as its members meet with lawmakers.
NPPC held its Legislative Action Conference this week, where its members met virtually with lawmakers in Washington and, among other things, urged them to sign a letter co-sponsored by Reps. Ron Kind (D-Wisconsin), Darin LaHood (R-Illinois), Dusty Johnson (R-South Dakota) and Jim Costa (D-California) to U.S. Trade Representative (USTR) Katherine Tai, seeking her support for enhanced Vietnamese market access for U.S. pork.
"Vietnam represents one of U.S. pork's best near-term export market opportunities," said NPPC President Jen Sorenson in a media call with reporters on April 15. "Unfortunately, the United States faces several unwarranted tariff and non-tariff barriers that prevent us from supplying this major pork-consuming nation, which right now is dealing with African swine fever in its domestic herd, … with affordable, high-quality pork."
Among the non-tariff barriers the U.S. faces in Vietnam is a ban on white offal, which includes products such as intestines, spleen and tongue that are not readily consumed in the U.S. but are popular in Vietnam, according to NPPC's assistant vice president of international affairs, Maria Zieba.
"We have been working with USDA and USTR on this and there was a partial ban lifted on red offal, but white offal remains one of those products that we're still interested in being able to export but so far we're not able to," she said, adding, "for us to be competitive in the Vietnamese market, we have to have better tariffs in that Vietnamese market."
Domestic pork consumption in Vietnam is greater than 2.5 million metric tons (MT) per year, but in 2020, U.S. pork producers only exported 25,183 MT to Vietnam, at a value of US$54 million.
"Our producers have been asking members of Congress to work with the U.S. Trade Representative on efforts to enhance Vietnamese market access for U.S. pork," Sorenson said.
"There's a lot of opportunity," said NPPC vice president and counsel, Nick Giordano. "The U.S. has a trade imbalance with Vietnam and pork alone is a good candidate to put a dent in that trade imbalance."
Labor reform
Sorenson said NPPC is also advocating for meaningful visa reform that will address the labor shortage on farms and in processing plants in the U.S.
"U.S. pork producers offer jobs with good pay and benefits, but most Americans simply do not live near our hog farms or harvest facilities, and rural populations continue to decline, causing us to be largely dependent, more and more, on foreign-born workers," she said.
NPPC said current visa programs do not address the labor needs of U.S. pork producers and other year-round livestock farmers. It is urging Congress to address labor reform that opens the H-2A visa program to year-round labor, without a cap, and provides legal status for agricultural workers already in the country.
Animal health-related issues
Another priority of the NPPC is foreign animal disease prevention and preparedness. NPPC addressed three animal health-related issues with lawmakers this week:
Full congressionally appropriated funding — US$635 million — for 720 new U.S. Customs and Border Protection agriculture inspectors, as authorized by 2020 legislation, to keep American agriculture safe from foreign animal and plant diseases
Appropriations of US$30 million as authorized by Congress for the National Animal Health Laboratory Network (NAHLN), which provides disease surveillance and diagnostic support in cases of large-scale animal disease outbreaks
Tighter USDA regulation for the safe importation of rescue dogs from foreign animal disease-positive countries to protect U.S. livestock.
World Pork Expo returns
Additionally, Sorenson said NPPC is very excited to be holding the World Pork Expo at the Iowa State Fairgrounds in June for the first time since 2018. The event was canceled in 2020 due to the COVID-19 pandemic, and in 2019 was canceled out of an abundance of caution due to concerns about African swine fever.
"This decision did not come lightly," Sorenson said. "It was very carefully considered based on the feedback of so many across the industry, not only the board of directors but also within the state of Iowa, to move forward with the World Pork Expo this year. It's our industry's biggest event, a place where producers and industry participants get together and do business and look at new products, adopt innovations, learn from each other, network."
NPPC assistant vice president of communications, Jim Monroe, said this year's trade show will be more spread out than years past and will include handwashing station and other health and safety measures.
"Please know that all appropriate actions will be taken to support both human and animal health," Sorenson said. "We're continuing to monitor appropriate safety measures in accordance with federal, state and local guidance. We're committed to remaining vigilant in monitoring conditions and responding accordingly."