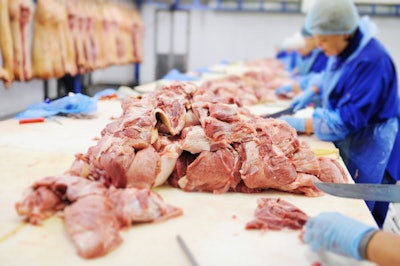 As the German domestic pig population remains free of African swine fever, the agriculture minister has urged China to lift its ban on pig meat imports from Germany.
As African swine fever (ASF) returns to hit a large farm in western Ukraine, new cases have also been confirmed in backyard herds in Romania and Russia. Officially reporting further ASF outbreaks in wild boar over the past week have been six European states. Barriers to control wild boar movements between Belgium and Luxembourg will not be removed until October, at the earliest.
Ahead of a high-level government conference at the end of this month, agriculture ministers of Germany and China have discussed the implications of ASF on pig meat trade.
Germany's domestic pigs are free of ASF, according to Minister Julia Klöckner. Furthermore, reports the federal agriculture ministry, the disease is limited to wild boar in two states in the east of the country. Among the measures being taken to control the disease are increased biosecurity — including the construction of wildlife fences — raising awareness, controlled hunting of wild boar, and widespread testing for the ASF virus.
During the meeting, Klöckner stressed that her aim is a resumption in German pork exports to China, which have been suspended. She and Chinese minister Tang Renjian agreed to future discussions on ASF between the two countries' respective specialists.
Previously, the German ministry announced that the European Commission had agreed to additional funding of EUR9 million (US$10.8 million). This is to support fence-building in the eastern states of Brandenburg and Saxony. A series of barriers has been constructed by these two states in order to restrict the movements of wild boar, and so limit the risk of spreading ASF.
3 European nations reports new ASF outbreaks in domestic pigs
The latest update from the European Commission (EC) puts the number of ASF outbreaks in domestic pigs so far this year at 364.
According to the EC Animal Disease Notification System, as of April 4, this is an increase of 40 from the previous report dated March 21. Of these, 39 were in Romania, bringing the country's total to 343 so far this year. One new outbreak was confirmed in Ukraine, bringing the nation's total to three so far this year. In 2021, Serbia has recorded a total of 17 outbreaks, the most recent being on March 9. Poland has registered one outbreak in mid-March.
Romania's animal health agency has officially recorded a further 16 ASF outbreaks in domestic pigs with the World Organisation for Animal Health (OIE). Occurring between March 24 and early April, these involved a total of 230 animals. At one location in the northwestern county of Cluj, two pig carcasses found to be infected had been discarded in a public area. All other ASF outbreaks were in backyard herds of up to 129 pigs.
After a four-month absence, ASF has returned to the Ukrainian oblast of Chernivtsi. Source of the infection in unknown, according to the official OIE report. Presence of the ASF virus was confirmed after five of the almost 22,000 pigs at a farm in Koteleve died this month. Located in the west of Ukraine, Chernivtsi shares borders with Moldova and Romania.
In Russia, a second ASF outbreak in the Komi Republic has been officially registered with the OIE. Affected was a backyard herd of five pigs in Malaya Sluda. Komi is part of the Northwestern Federal District of Russia. In early February, ASF was reported for the first time in the Republic.
ASF toll in European wild boar exceeds 4,500
As of April 4, the EC notification system had registered 4,507 outbreaks of ASF among European wild boar so far this year. This is an increase of 698 from the previous status on March 21.
In Europe, Hungary has been worst affected, recording 1,543 outbreaks for the year in 2021 — an increase of 326 from the previous EC report. Next are Poland with 1,040 outbreaks, followed by Slovakia (577), Romania (531), Germany (522), and Bulgaria (145). Cases have also been confirmed in four other European states this year — Estonia, Italy, Latvia and Lithuania.
Over the past week, Hungary's veterinary authority has registered 261 new cases of ASF in wild boar with the OIE. All animals were found in northern and northwestern counties that share borders with Slovakia or Ukraine. Also officially registering new cases over this period were Romania (59 wild boar) and Latvia (1).
Moldova's most recent ASF outbreak was in September 2020, according to its OIE reporting.
Heavy wild boar losses continue in Germany, Poland
Based on reports issued by the nation's chief veterinary officer over the past week, Poland has confirmed 177 new ASF outbreaks among its wild boar population. These bring the nation's total so far this year to 1,087. Directly involved were 334 animals found in six provinces during the month of March.
Worst affected continues to be the western province of Lubusz (703 outbreaks so far this year), followed by Warmia-Masuria (159), Subcarpathia (Podkarpackie; 52), Lower Silesia (Dolnoslaskie; 48), West Pomerania (Zachodniopomorskie; 37) and Podlaskie (9).
The number of wild boar in Germany testing positive for the ASF virus has reached 987 as of April 16. According to the national veterinary agency, the Friedrich-Loeffler Institute, this is an increase of 52 since April 6. Latest cases were found in same districts of Brandenburg and Saxony where previous infections have been confirmed in the wild population.
With 879 confirmed cases since September 2020, the eastern state of Brandenburg continues to bear the brunt of ASF infections. Positive cases have been detected in five districts, according to the agriculture ministry. Of the total, 526 cases have been found in Oder-Spree, making this the worst-affected district for ASF-infected wild boar in Germany.
Neighboring Saxony is the only other state where ASF-positive cases have been detected among wild boar. Its total stands at 70 as of April 6. This is an increase of five cases from March 18, reports the agriculture ministry. All infected cases so far have been found in the district of Görlitz.
Wild boar fences still stand in Belgium, Luxembourg
Authorities in the Belgian region of Wallonia have announced that a fence to control wild boar will remain in place until March 2022. In neighboring Luxembourg, a decision will be made in mid-October of this year, reports RTL. In the meantime, it too will be maintained — just in case ASF re-emerges in the region.
These barricades were among the safety measures introduced when the first cases of ASF were confirmed among the wild boar population in the Belgian province of Luxembourg in 2018. OIE officially declared the country free of ASF at the end of last year. Since the start of this month, the public have been able to access this forest area again after it was closed as a precaution against the spread of infection.
Despite widespread testing of wild boar in the state of Luxembourg, none of the animals has tested positive for the ASF virus.
View our continuing coverage of the global African swine fever situation.