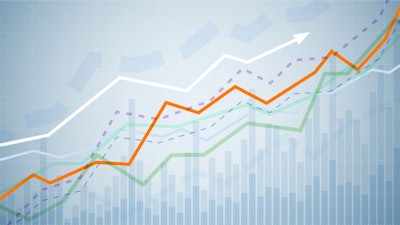 Grain price rally, demand from China contributing factors, but several issues could still lead to volatility
Many U.S. agricultural producers are experiencing very favorable market conditions, according to CoBank's newest quarterly report, which declared "agriculture has its swagger back."
During the first quarter of 2021, exports to China for corn, soybeans, wheat and sorghum increased by 269% vs. an increase of 59% to all destinations. This is even as China's agriculture ministry in March said it was looking for ways to lower corn and soybean meal content in animal feed and has asked nutritionists to come up with guidelines for use of alternative grains.
China's feed demand remains strong as it rebuilds its hog herd, and grain prices in China are much higher than U.S. export prices, making it cheaper for China to import supplies.
In the U.S., CoBank said, "the grain rally has continued and the quarter ended with a positive spike following a 'bullish shocker' planting intentions report" with 6.8 million more corn, soybean and wheat acres expected in 2021.
Prices on May contracts increased 23% for corn, 12% for soybeans and 28% for soybean oil.
CoBank points out that there are several issues that could result in grain price volatility in the near term: "First, a recent surge of African swine fever (ASF) in Asian countries could temporarily slow soybean demand for hog feed. Second, the continued inversion in the forward curves for corn and soybean futures eliminates opportunities for positive carry for grain cooperatives. Rising basis levels for corn and soybeans in the country has also tightened margins for grain handlers," the report said.
New ASF outbreaks have been reported recently in pigs in China, Papua New Guinea, the Philippines and Vietnam.
Protein producers are seeing pricing that is helping to offset the high feed prices they have been experiencing. For chicken producers, high meat prices offset the double-digit rate of feed cost inflation. In the pork market, "concerns over feed and other cost inflation has taken a back seat to optimism for another year of strong pork exports and robust domestic pork demand," the report said.
In its report in December, CoBank said that, in 2021, U.S. hog producers are expected to see the largest feed cost inflation, at 14%, followed by cattle feeders at 13% and chicken producers at 11%.