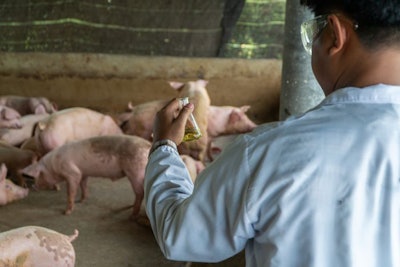 Company executive said unapproved vaccines reduced its hog output
An executive from China's WH Group said the use of illegal vaccines for African swine fever (ASF) reduced the output of hogs and will keep prices high for 2021.
Reuters reported that Ma Xiangjie, president of WH unit Henan Shuanghui Investment and Development, said the use of unapproved vaccines ended up killing pigs, further tightening pork supply.
"Since the second half of last year some pig producers in China, especially south of the Yangtze river, used some immature pig vaccines and caught African swine fever again," Ma said.
WH Group raised its forecast on pig prices due to the impacts from the illegal vaccines.
Recent analysis of the genetic makeup of new ASF strains in China indicated that they may have originated in unregulated vaccines.
There is no approved vaccine for ASF, but Vietnam's Deputy Minister of Agriculture and Rural Development, Phung Duc Tien, said in January that the country plans to produce and commercialize an ASF vaccine in 2021. According to reports, the vaccine is based on a prototype supplied by the U.S. Department of Agriculture, and four batches of 10,000 doses each will be manufactured.
USDA has previously said it had developed a highly effective ASF vaccine prototype that was tested on a small number of live pigs at the Plum Island Animal Disease Center of New York. The live attenuated vaccine was developed by deleting a gene, called I177L, that was chosen using bioinformatic prediction that showed it was likely the gene involved in immunomodulation of the virus.
According to Feed Strategy's Top Feed Companies database, WH Group operates several subsidiaries involved in meat, egg and feed production — including U.S. pork producer Smithfield Foods. WH Group is China's largest and one of the world's leading meat manufacturers. WH Group subsidiary Smithfield Foods also owns the poultry producer Animex, Poland's biggest producer of pork, poultry and processed meat products. That company exports to 40 countries in Europe, Asia, North America and Africa. In 2019, WH Group produced 5.2 million metric tons of animal feed.