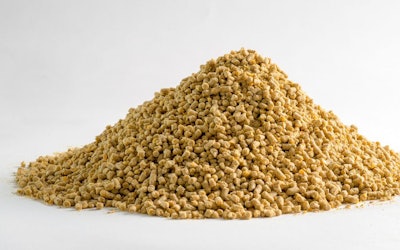 Feed Strategy's editor breaks down the results of the 2021 Poultry Feed & Nutrition Survey and the many challenges for the industry
PODCAST: Poultry feed producer profits face headwinds (09:46)
Ann Reus, Feed Strategy staff reporter: Hello everyone and welcome to the Feed Strategy podcast. This is Ann Reus, staff reporter for Feed Strategy.
WATT Global Media's annual Poultry Feed & Nutrition Survey seeks to identify the feeding and external trends shaping the poultry and feed industries. The 2021 edition of the survey includes input from 560 respondents from around the world. More than half of the survey participants are nutritionists, consultants and veterinarians; 16% work in live production management or own a poultry farm. Other respondents include those in marketing and sales, feed mill operations and quality control.
Joining me today to talk about this year's survey results is Jackie Roembke, editor of Feed Strategy magazine. Hi Jackie, and welcome to the podcast.
Roembke: Hey Ann, thanks for having me.
Reus: No problem, thanks for being here. So were there any surprises in this year's Poultry Feed & Nutrition Survey? Any big changes from previous years?
Roembke: Well, the impact of COVID-19, obviously, made headlines. Going into 2020, many thought that ASF would remain the hot topic swaying both meat consumption, raw material demand and, of course, the greater feed industry. However, the pandemic changed everything. The food service industry is still struggling, retail dealt with its own set of challenges — all of which really impacted poultry producers.
In addition, after benefiting from years of low, stable commodity prices, it was clear toward of the end of 2020, that the agrifood industry was heading toward some serious grain price volatility.
Together, these issues really rocked the survey respondents' profitability outlook for '21, with less than 40% believing profitability will improve – which is a 10% drop from 2019, for comparison — 28% bracing for deteriorated profitability and 33% feeling profits will remain flat.
So that was kind of the outlook – not as optimistic as in prior years.
Reus: What were the main challenges for the feed industry that were brought about by COVID-19?
Roembke: According to 66% of survey participants, the supply chain disruptions topped the list as the greatest COVID challenges poultry and poultry feed producers faced in 2020.
Many of them struggled to keep their employees safe by securing personal protective equipment and also in establishing proper social distancing procedures and investments — with actually 57% citing safety as their second biggest obstacle.
In addition, commodity price volatility, lost work due to market uncertainty, and slashed budgets rounded out the respondents' top five COVID-related business challenges.
Now, with conditions improving across the country, 38% of those survey respondents do believe their feed production will increase in 2021, but still about 40% think it will stay the same as in 2020.
Reus: Wow. And what effect is African swine fever having on feed producers around the world?
Roembke: Well, Ann, as you very well know, Chinese and Southeast Asian pig producers have been struggling to contain, control and mitigate the effects of ASF since mid-2018 — and it remains a major issue for producers and to the animal protein production industry worldwide.
So, now, here we are in 2021, and we have 26% of our survey respondents who believe that the continued effects of ASF will be one the reasons that they actually ramp up production.
And, because we also have feed industry suppliers responding to the survey, we know that 13% of them feel that ASF will contribute to an increase in their feed additive sales. So that's a bonus there, I suppose.
Reus: You already mentioned corn and soybean markets are going through a lot of volatility right now. How is that expected to affect profitability for feed producers and poultry producers?
Roembke: It is a major concern — and, really, it's going to be for the rest of year with many different variables potentially impacting the prices in the months to come, but even far beyond.
When asked to weigh in on the primary challenges that the poultry industry faces in 2021, 85% cited that the cost of grain was their No. 1 concern.
In fact, 38% of survey respondents anticipated their grain costs would increase by between 1% and 5% this year. And, in addition, 32% fear that they will see increases by more than 10%.
And then, taking all of this a step further and digging down into the feed additive and micro-ingredient costs, those suppliers continue to struggle with some supply chain risk and logistical challenges, which led 63% of our survey respondents to cite that rising feed additive costs were as another commodity concern of theirs.
Reus: OK, and switching gears at little, what did the survey results tell you about trends in antibiotic-free production?
Roembke: Well, that is a great question, Ann. Eighty-eight percent of our 2021 survey participants report having some degree of antibiotic-free production— with 25% stating that 100% of their poultry operation is antibiotic-free.
However, 38% cited antibiotic restrictions as their greatest production challenge.
In the opinion of survey respondents, the main problem in making the transition to antibiotic-free production — at least for 40% of them — can be attributed to the inconsistent results they have experienced with feed additive alternatives.
The second big issue that they grappled with: 35% say that is the cost of feed additives.
In fact, 32% of respondents report that antibiotic-free poultry rations cost between 1% and 5% more than traditional formulations and 19% say their costs for ABF feeds have increased by 5% to 10%.
In contrast — and these numbers are likely attributed to their location — 15% note that their company's formulations actually cost less without antibiotics.
So then, meanwhile, poultry producers do cite production losses since the elimination of antibiotic growth promoters and, also, the frustration and difficulty implementing on-farm hygiene and different procedural changes have also further complicated things.
Here, half of the respondents say that antibiotic reductions have resulted in increased incidents of necrotic enteritis and coccidiosis.
Reus: Oh, that's interesting responses from the poultry producers.
Roembke: Yeah.
Reus: So, what types of antibiotic alternatives are being used the most in antibiotic-free rations, and in what kinds of combinations?
Roembke: So, 73% of respondents reported that their company is actively exploring, testing or using feed additives as antibiotic alternatives or replacements.
Now, to regain what they've lost from losing the AGPs, respondents have incorporated different feed additives into their rations to bridge that gap. Probiotics and organic acids ranked as the most popular AGP alternatives, followed by enzymes and phytogenic feed additives.
Now, 81% of respondents — and this is tabulated by response percentage — have found that both organic acids and probiotics will be the most effective feed additives alternatives to antibiotics, while 69% pointed to enzymes.
Meanwhile, phytogenic feed additives and essential oils were deemed effective by about 65% of respondents; however, a different set of that group — 27% — felt that they couldn't even comment on the efficacy of the phytogenic feed additive category. So, it seems like there's a little education or availability or investment gap there that could produce different results in future surveys.
Reus: Yeah, still a lot to learn, it sounds like. Lastly, can you tell our audience why they should participate in next year's survey?
Roembke: My pleasure. The 2021 edition was our 10th year conducting the Poultry Feed & Nutrition Survey, and every year we alter the questions to reflect the hot topics of the day to offer insights into how poultry producers, nutritionists and feed manufacturers are navigating those critical industry issues.
I know I love reviewing the responses and really appreciate the feedback. And, based on the high traffic and engagement with the report year over year, so do our readers.
So, in the future, everybody should participate because their experience is valuable and, really, their peers can learn from their input. That's my plug for the 2022 edition.
Reus: Well, thanks Jackie, you had some great insights there.
If you would like to read the full report on the 2021 Poultry Feed & Nutrition Survey and see a breakdown of the results, go to www.feedstrategy.com or find it in the March-April edition of Feed Strategy magazine or the digital edition, also available at www.feedstrategy.com. This issue also includes features on other topics we've discussed today, including corn and soybean prices, and antibiotic-free production.
Thanks, everyone, for listening and have a great day.