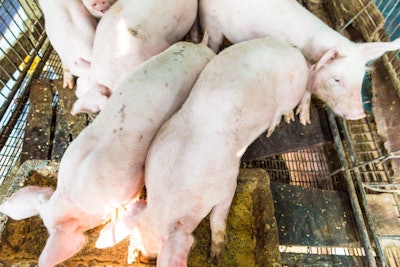 Germany has registered more than 600 cases of African swine fever in wild boar.
At least 700 pigs have died as a result of African swine fever (ASF) in a northern region of the Republic of Uganda, reported Daily Monitor last week. Losses could be as high as 1,200 animals, according to the area veterinary officer.
At the start of the year, mortalities in the East-Central African country started to rise, he said. Initially, the deaths were thought to be linked to the normal seasonal pattern during the dry season. Since then, tests have revealed the presence of the ASF virus. So far, cases have been confirmed in three sub-counties in Otuke district.
Although ASF is not a threat to human health, a local veterinarian is urging people to stop consuming diseased pigs. Carcasses should be buried or burned, he said.
According to Daily Monitor, the agriculture ministry undertook to arrange supplies of vaccine to the affected area. So far, no vaccine has been internationally approved to prevent ASF, and there are no proven effective treatments.
In recent weeks, cases of ASF have been confirmed in three other African countries — South Africa, Togo and Tanzania.
According to the World Organisation for Animal Health (OIE), there are also ongoing unresolved ASF outbreaks elsewhere in Africa — Namibia, Nigeria, Sierra Leone and Zambia.
4 farm outbreaks in Romania
Since Romania's first ASF cases in 2018, the great majority of outbreaks have occurred in small backyard herds and the wild boar population.
Reports over the past week, however, include details of outbreaks on premises described as "farms."
According to reports from the veterinary authority to the OIE, ASF virus has been detected on four unrelated farms since the start of this year.
Among these was a unit with 29,200 pigs in the central county of Sibiu, and another with almost 20,000 animals in the south of the country. Involving around 2,200 and 400 pigs, the other farms with confirmed outbreaks were in northern Romania. According to the national veterinary authority, these outbreaks occurred during the period January 3-27.
Affecting a total of approximately 52,300 animals, there were significant mortalities at the affected farms, as well as among 25 backyard herds across Romania.
Over the same period, 141 new cases of ASF among the country's wild boar have been registered with the OIE.
According to the latest update from the European Commission (EC), the number of ASF outbreaks in domestic pigs so far this year stands at 81. Of these, 80 were in Romania, and one in Ukraine, according to its Animal Disease Notification System (as of January 24).
Another Russian farm hit by ASF
A similar pattern in ASF outbreaks has occurred in in western Russia. Since the first cases in February 2019, most of the outbreaks have been recorded in small non-commercial pig herds and wild boar. However, so far this year, the agriculture ministry has registered with the OIE eight ASF outbreaks on farms. These have resulted in the loss of more than 92,200 animals through mortality or culling.
Latest to have the infection confirmed was a premises with more than 14,000 pigs in Bondarsky district. At the time of reporting, six of the animals had died. The rest of the herd was scheduled for culling.
Located in Tambov oblast in the Central federal district, Bondarsky is the location of a farm outbreak just the previous week. Shortly before, there had been three outbreaks on related farms in Kursk oblast. This also belongs to Russia's Central district.
German expands control area as wild boar count exceeds 600
A total of 607 wild boar in Germany have now tested positive for the ASF virus, according to the latest update from the national veterinary laboratory, the Friedrich-Loeffler Institute. This is an increase of 51 since January 22. All these animals were found in the eastern state of Brandenburg — 23 in the Oder-Spree district, and 14 each in Spree-Neisse and Märkisch-Oderland.
Up to January 27, the agriculture ministry had already registered 147 cases with the OIE so far this year — all in wild boar.
Germany recorded its first ASF infection in a wild boar in September 2020.
As well as Brandenburg, there have been 19 confirmed cases in wild boar in Saxony, according to the state's government. All these infected animals have been located near to the border with Poland.
At the end of January, authorities in Saxony expanded its ASF "danger zone" and "buffer zone." Temporary fencing will be put in place until a more permanent structure can be constructed. All carcasses found within the enlarged control area will be removed and tested for the ASF virus.
3 European state register new cases of ASF in wild populations
Over the past week, Hungary has confirmed to the OIE that 120 of its wild boar have tested positive for the ASF virus this month. For Latvia, the figure is six.
Poland's agriculture ministry has retrospectively reported 272 additional ASF cases in wild animals. These figures include 132 infected wild boar found in eastern provinces (Warmia-Masuria, Mazovia, and Sub-Carpathia) in the period February 15 to March 25 last year. Between March 13 and April 8 of 2020, there were 140 more ASF cases in Lubusz, Greater Poland and Lower Silesia. These provinces are in the west of Poland, near the border with Germany.
View our continuing coverage of the global African swine fever situation.