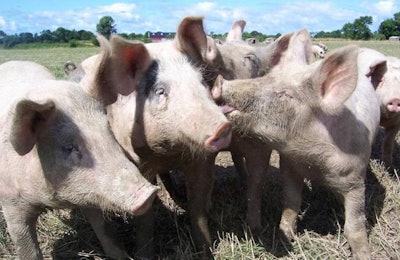 For the first time in several months, elevated pig mortality in Togo has been blamed on the return of African swine fever.
In the West African state of Togo, local media describe an "ASF epidemic" in the north of the country.
According to TogoFirst, mortality among pigs has recently risen sharply in five districts in Tandjouaré prefecture. Part of the Savanes (Savannah) region, this prefecture is in the north of the country, and is near to the borders with Ghana and Burkina Faso.
To control the spread of African swine fever (ASF) infection, the authorities have called for all pigs at infected premises to be culled. Following depopulation and disinfection, the farms are to remain empty for six months. For the same period, there is also a ban on the movements of all pigs, feed and related equipment in the infected area.
Last reported ASF outbreaks in Togo were in May 2020, when at least 40 pigs died in the Maritime region, which is in the south of the country.
Infection spreads in Tanzania
In East Africa, the number of pigs killed by ASF has risen to 1,155, according to Chinese news agency Xinhua. Cases are now reported in six districts in the north of Tanzania, around Lake Victoria.
Worst affected so far is the Kahama district of Shinyanga region, where more than 900 pigs have died. Losses have also been recorded in the neighboring regions of Kagera, Geita and Mwanza.
Last week, it was reported that pig mortalities began in Tanzania during December. By that time, 500 pigs had died in Shinyanga — so the infection appears to be spreading rapidly.
Three years ago, in March 2018, more than 900 pigs died as a result of ASF in the southern region of Ruvuma, according to Xinhua.
Further cases in South African ASF 'hot spot'
In mid-January, South Africa's veterinary authority officially registered two ASF outbreaks. Both were located in the Randfontein area of Gauteng province. This was also the site of the country's largest outbreak, which involved 9,000 pigs at a farm in November.
According to the report to the World Organisation for Animal Health, the latest outbreaks involved a small backyard herd of eight pigs, and a farm with 125 animals. Of the 133 in total, 12 pigs died, and the fate of the remaining animals is not recorded.
Latest outbreaks brings South Africa's total since April 2019 to 33. They have directly impacted almost 15,000 pigs.
View our continuing coverage of the global African swine fever situation.