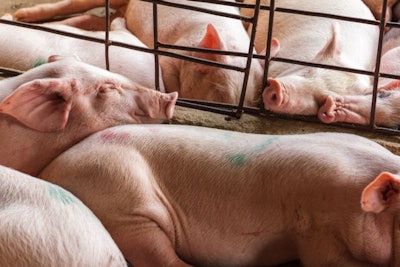 While significantly more cases of African swine fever (ASF) were recorded among European wild boar in 2020 compared with the previous year, there were fewer outbreaks in domestic pigs.
In 2020, Europe made significant progress in controlling African swine fever (ASF) among domestic pigs in terms of the number of recorded outbreaks.
Based on information supplied to the European Commission (EC) through its Animal Disease Notification System, total farm outbreaks stood at 1,240 for the year. This represents a fall of 668 from the 2019 total. It also breaks a rising trend in outbreaks since 2015.
While Italy registered no outbreaks on farms last year, Greece and Moldova reported some cases — one and two outbreaks, respectively. As a result, the number of European states that confirmed any cases of ASF in domestic pigs increased from nine in 2019 to 10 in 2020.
As in 2019, Romania accounted for the great majority of these outbreaks — 1,053 or 85% of the total. Almost all were in small backyard herds. There were 103 ASF outbreaks on Polish farms — considerably more than the 43 in 2019, but no new cases have been confirmed since the end of October.
Other European states with confirmed ASF cases on farms in 2020 were Ukraine (23 outbreaks), Bulgaria (19), Slovakia (17), Latvia and Lithuania (each with three), Moldova (two) and Greece (one).
Europe: Cases in wild boar exceed 11,000 in 2020
During the past year, 14 European states registered a total of 11,027 outbreaks of ASF among their respective wild boar populations. This is 72% than in 2019, when there were a total of 6,407 outbreaks in 11 countries in the region, according to the EC's notification system.
Recording their first ASF cases in wild animals in 2020 were Germany, Moldova and Serbia.
Registering the highest number of ASF cases in wild boar during 2020 with the EC were Poland (4,070 outbreaks), and Hungary (4,001). Also reporting outbreaks were Romania (885), Bulgaria (533), Germany (403), Slovakia (375), Latvia (320), Lithuania (230), Estonia (68), Serbia (63), Italy (41), Moldova (30), Ukraine (five) and Belgium (three).
In November 2020, Belgium was officially declared free of ASF. Moldova has had no new cases since May 2020.
First reports of ASF in Europe in 2021
At the end of last month, Romania's veterinary authority officially confirmed four ASF outbreaks among domestic pigs. According to the report to the World Organisation for Animal Health (OIE), these reports total 213 pigs. These belonged to backyard herds of up to 152 animals in the south of the country. In addition, the ASF virus was detected in two pig carcasses found dumped in a national park.
ASF was also detected in a backyard herd in Russia's Southern federal district in the final days of 2020. The agriculture ministry reported to the OIE that 13 of the 40 animals died as a result, but the fate of the others is not recorded.
In Ukraine, ASF was confirmed in a second non-commercial pig herd in the southern oblast of Mykolaiv this month. Nine of the pigs died, and 30 more were culled.
Additionally, four European states confirmed to the OIE new cases of ASF among their wild boar populations — Germany (26 animals), Latvia (20), Russia (18) and Romania (one).
In its latest update, Germany's national veterinary laboratory the Friedrich-Loeffler Institute lists 29 new outbreaks in wild boar since December 31. Of these, one was found Saxony, and the others in Brandenburg. All locations were in districts where previous cases have been confirmed.
Latest ASF control measures in the German-Polish border area
At the end of December, Germany's agriculture ministry (BMEL) stressed the importance of cooperation to bring ASF under control in its eastern states.
Around the central outbreak area — in Brandenburg and Saxony — a "white zone" is being set up. Five kilometers wide, this strip will enclose a half-circle up to the Polish border. On either side of the zone will be two parallel wire fences. Already under construction was the outer barrier. When both fences are complete, wild boar will be eliminated from the "white zone."
According to the BMEL, the aim is to create an area free of wild boar, and so reduce the risk of further spread of the ASF virus. Creation of the "white zone" will prevent infected animals disturbed by the hunting from moving on to uninfected areas.
ASF is not transmissible to humans, the ministry stresses, and no cases of the disease have been found in the country's domestic pigs.
Germany recorded its first cases of ASF in wild boar in the state of Brandenburg in September 2020, and in Saxony at the end of October.
View our continuing coverage of the global African swine fever situation.