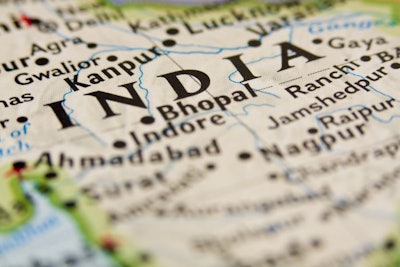 In the early days of 2021, local media in northeastern India have reported the first cases of African swine fever (ASF) in Manipur.
Cases of African swine fever (ASF) have been reported in the Indian state of Manipur, reports Hindustan Times.
According to local officials, the disease was probably brought into the state on illegally imported pigs or pork.
In the northeast of the country, Manipur shares borders with the Indian state of Assam, and an international frontier with Myanmar. Both of these regions reported ASF outbreaks last year. To prevent the disease spreading to Manipur, authorities ordered the borders to be closed immediately for live pigs and pork.
In Manipur, disease control measures are underway in the districts of Thoubal and Imphal East, the source reports. Affected areas have been sealed and sanitized, and surveillance is being carried out within a 10-kilometer radius of each outbreak. District authorities stress that anyone violating the movement bans will be committing an offense, and may be punished.
More ASF cases among South Korea wild boar
Between December 18 and January 1, 32 more wild boar tested positive for the ASF virus, according to the agriculture ministry.
Official reports to the the World Organisation for Animal Health (OIE) record that all the cases were in the northern provinces of Gyeonggi and Gangwon. Many cases have been registered in these provinces since 2019. However, the latest outbreaks appear to include the first cases in Yeonwol county. This is located in the far south of Gangwon, whereas the great majority of previous cases have been near the northern border of this province.
Since the first cases were confirmed in South Korea in October 2019, more than 900 wild boar have tested positive for the ASF virus. Among domestic pigs, 16 outbreaks have been confirmed on farms. This total comprises 14 during 2019, and two during October 2020.
More wild boar cases in Russia's Far East
The Russian agriculture ministry has registered with the OIE just one new outbreak of ASF among wild boar in the Far Eastern federal district. Six infected animals were found in Khabarovsk oblast.
Previous cases have been recorded in this area since July 2019, when ASF was first detected in the Far Eastern federal district. According to the OIE, 203 outbreaks have been reported in this district, involving a total of 7,753 domestic pigs and wild boar.
Update on ASF situation in Nigeria
In a recent report on the food security situation, the United Nations' Food and Agriculture Organization (FAO) reports that the animal health situation in Nigeria is "generally favorable." ASF is among the diseases the FAO describes as "seasonal."
The most recent update on the local ASF situation from Nigeria's veterinary authority was posted in September 2020. At that time, the agriculture ministry reported the disease had been detected in 12 states. The peak of infections had been in May and June.
View our continuing coverage of the global African swine fever situation.