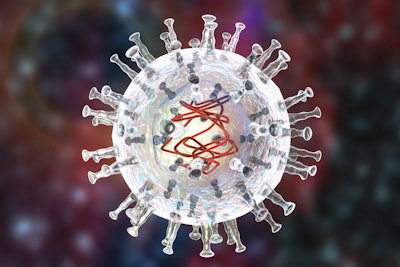 African swine fever (ASF) has been confirmed at another large farm in western Russia, as well as in non-commercial pigs in Romania.
Over the past week, Russia's agriculture ministry has registered two outbreaks of African swine fever (ASF) in domestic pigs. According to the official report to the World Organisation for Animal Health (OIE), one of these was at a commercial farm in the Bezhetsky region of Tver oblast. Of the 72,664 animals at the premises, 20 died.
Previously, ASF was confirmed at four apparently related units in the same district. More than 160,000 pigs were directly involved in those outbreaks. Tver oblast belongs to the Central federal district.
Also recently testing positive for the ASF virus was a backyard herd of 136 pigs in Volgograd oblast, which is in Russia's Southern federal district.
Romania registers new cases in backyard herds
Over the past week, Romania's animal health agency has officially reported 29 new confirmed outbreaks of ASF in backyard herds. According to the OIE report, these involved herds of between two and 129 animals — 602 in total — in five regions of the country.
In addition, five pig carcasses found by the side of a road in central Romania also tested positive for the virus.
Overview of the ASF situation in Europe's domestic pigs
According to the Animal Disease Notification System of the European Commission (EC), there were 13 new confirmed outbreaks in Romania, and one in Ukraine during the week to December 20.
Up to that date, the EC's system puts the total number of outbreaks in Europe's domestic pigs at 1,194. This compared with 1,908 outbreaks last year.
Now standing at 1,008, the number of outbreaks in Romania so far this year has overtaken a significant milestone. While the overwhelming majority of this country's outbreaks have been in small backyard herds, this number is well below the 1,724 outbreaks registered during 2019.
Recording the second largest number of ASF outbreaks this year is Poland with 103. No new cases have been detected in domestic animals since the end of October.
Free of ASF, Belgium is ready to resume pork exports
Last week, the OIE confirmed that Belgium is again free of ASF, according to the Flanders regional government.
After the first cases were confirmed in September 2018, the disease-free status of the country was withdrawn. The disease did not affect any domestic pigs or commercial farms, but the loss of export markets hit the domestic industry hard.
In Belgium, ASF was only ever found in wild boar, largely in the southern province of Luxembourg. Out of 5,422 wild boar tested, 833 were positive for the ASF virus. While some virus-positive cases were obtained in 2020 from partly decomposed boar carcasses, the most recent case in a live animal was in August 2019. Monitoring and testing of wild and domestic populations will continue for the time being, and all sick pigs are automatically tested for ASF.
Authorities are now working together to restore pork exports to some of the 70 countries that were previous destinations for Belgian pig meat. The Belgian Meat Office is already rolling out a communications program around the world to stimulate demand, particularly in Asia.
ASF 'resolved' in regions of Russia, Ukraine
According to the Ukrainian agriculture ministry, the ASF situation has been "resolved" in the oblasts of Zhitomir and Chernivtsi. In each region, the declaration comes after at least six weeks after a single confirmed outbreak of the disease.
In recent days, Russia's agriculture ministry has also declared to the OIE that ASF has been eliminated from one region — in this case, Omsk oblast. More than one month previously, presence of the virus had been confirmed in a backyard herd in Omsk, which is located in the Siberian federal district.
ASF cases in European wild boar continue to rise
Up to December 20, 10,662 wild boar hunted or captured in Europe have tested positive for the ASF virus, based on reports to the EC. This is 292 more than in the previous week's figure.
According to this source, Poland has registered the most cases in wild boar so far this year — 3,980. The Polish total has risen by 84. Hungary's total has increased by 71, now standing at 3,952.
Also registering new ASF cases in wild boar with the EC since the start of December were Romania (848 virus-positive cases so far this year), Bulgaria (509), Germany (338), Slovakia (328), Latvia (300), Lithuania (222), Estonia (66), Italy (40) and Ukraine (1).
Over the past week, three European countries have registered with the OIE new cases of ASF among their respective wild boar populations. These were Germany (139 animals), Romania (38) and Russia (14).
Latest update from the national veterinary agency, the Friedrich-Loeffler Institute puts Germany's total wild boar cases so far this year at 390. Of these most recent cases, 21 were in the eastern state of Brandenburg. The one other case was in neighboring Saxony, where ASF was first detected in wild boar at the end of October.
Involving 52 wild boar, a further 33 ASF outbreaks have been confirmed by the chief veterinary office in Poland. Suspected during the first half of December, these cases were confirmed ASF-positive in the week to December 23. These animals were shot or found dead in seven provinces, including two in the latest province to record cases — West Pomerania (Zachodnio-pomorskie).
South Korea steps up biosecurity to control ASF
The agriculture ministry is further increasing biosecurity to prevent the spread of ASF from wild boar to domestic pigs, reports Yonhap. Among the measures being undertaken is an extension to a fence to restrict the movement of wild boar in 10 different areas. These are focused on the provinces of South Chungcheong and Gyeonggi, where 30% of the country's domestic pigs are farmed.
Since October 2019, 898 wild boar in South Korea have tested positive for the ASF virus, according to the news agency.
During 2019, ASF was detected at 14 pig farms. Just two have returned positive results this year — both during the month of October.
Other ASF news from Asia
In the past week, Russia's agriculture ministry has registered with the OIE one new outbreak of ASF among wild boar in its Far Eastern federal district. Three animals have tested positive for the virus in Primorsky krai.
No recent cases of ASF have been detected in Vietnam. Three outbreaks in the southern province of Ca Mau were confirmed between August 30 and September 10. According to the latest official report to the OIE, the agriculture ministry has recorded no cases since that date.
The latest update from the OIE puts the number of ASF outbreaks in Vietnam at 8,979, 1,475 of which are still considered to be ongoing. Since the first occurrence of the disease in February 2019, it has been detected in all 63 of the country's regions. The number of pigs directly affected in put at more than 5.97 million.
View our continuing coverage of the global African swine fever situation.