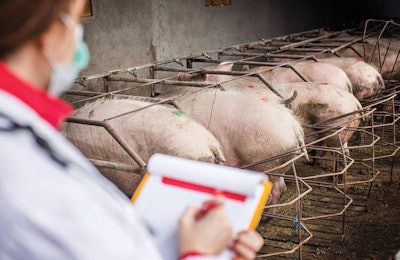 Over the past week, Belgium has been officially declared free of African swine fever while, in Poland, the disease status has been changed to reflect a decline in cases.
Belgium has been officially declared free of African swine fever (ASF), according to the country's federal agency for the safety of the food chain, AFSCA.
In October 2019, the agency recorded the last evidence of virus in circulation among wild boar in the southern province of Luxembourg. Last month, AFSCA requested that the European Commission (EC) allow the lifting of "ASF regulated areas." That measure has now been authorized by the EC, effectively conferring ASF-free status on Belgium. Importantly, according to AFSCA, it will facilitate normal trade in Belgian pig meat within Europe, and allow producers to restock. Those in the affected zones were forced to cull their herds after ASF was first detected in wild boar in the province in September 2018.
At the same time, the EC authorized that several regions of Poland have been moved to zones that require less restrictive ASF control measures.
This week, the chief veterinary office announced changes to the ASF status of some communities in the provinces of Podlaskie, Warmia-Masuria, Lublin and Greater Poland (Wielkopolskie). The changes came three months since the last confirmed outbreak in domestic pigs, and the final cleaning and disinfection of affected premises. In certain communities of Greater Poland, restrictions will be lifted further as there have been no ASF cases in wild or domestic animals for at least three months. In Mazovia, no cases have been detected among the feral pig population for 12 months.
Over the past week, the same office confirmed 54 ASF outbreaks among Poland's wild boar population. Of these, 21 were located in Lubusz province, 13 in Warmia-Masuria, and others in Sub-Carpathia (Podkarpackie), Podlaskie, and Lublin. Found between October 28 and November 11, all but one of these outbreaks involved an individual animal, while the other comprised two wild boar.
ASF virus in 180 wild boar in Germany
Over the past week, there have been a further 10 cases of ASF among German wild boar. These bring the total number of cases in the country since September to 180, according to national veterinary agency, the Friedrich-Loeffler Institute.
Latest cases have been found in the municipality of Görlitz in Saxony, and in Oder-Spree in Brandenburg. Previous cases have been reported in both of these regions. ASF virus has not so far been reported among the German domestic pig population.
New cases at Russian farm, among wild boar
Russia's agriculture ministry has officially registered a further two ASF outbreaks among domestic pigs, including one at a large farm. According to the report to the World Organisation for Animal Health (OIE), 24 pigs died at a farm of more than 20,500 animals in Kursk oblast this month. Also affected was a backyard herd in Arkhangelsk oblast.
Located in the Central federal district, the last reported ASF outbreak in Kursk oblast was at another large farm in 2019. The outbreak in Arkhangelsk appears to be the first in this oblast. It is part of the northwestern federal district, where the most recent ASF outbreak occurred in July.
In Russia's Far Eastern federal district, the only household pig in a backyard in Khabarovsk oblast has recently tested positive for the ASF virus. According to the latest agriculture ministry reports to the OIE, the infection was also confirmed in four wild boar — three in Primorsky krai, and one in Khabarovsk.
Isolated ASF cases in the Philippines
Following confirmation of isolated cases of ASF in the province of Surigao del Sur, an unspecified number of pigs kept within 500 meters have been culled, according to Philippine News Agency (PNA) this week. This province is in the Caraga region in the northeast of Mindanao. Source of the infection is thought to have been illegally traded meat.
According to the same source, ASF has been contained in two towns in Sarangani province in the south of Mindanao. Around 300 pigs were culled to control an outbreak in July, but there has been no sign of the disease for several weeks.
In the neighboring province of South Cotabato, PNA reports that regulatory guidelines and preventative measures have been put in place to prevent further ASF outbreaks. Due to come into force early in December, the measures aim to "give more teeth for enforcement of the rules," according to a local official.
Fiji takes action to prevent ASF
On Fiji, the agriculture ministry has issued assurances that stringent measures are in place to protect the island from ASF. Key to that aim are the maintenance of strict border controls on pig meat imports, reports Fiji Sun. Together with the nation's commercial farms, the ministry is closely monitoring the situation. In the past week, a plan has been agreed for procedures in case of an ASF outbreak.
Of all the Pacific island nations, ASF is only known to be present on Papua New Guinea. First cases there were detected in early March of this year, and four outbreaks are ongoing, according to the OIE. By August, related losses of pigs in one region were put at up to 3,000.
View our continuing coverage of the global African swine fever situation.