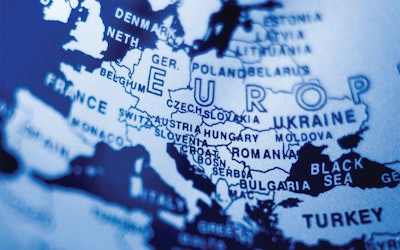 New outbreaks of African swine fever have been detected in domestic pigs in Romania, Russia and Ukraine.
Over the past week, some European countries have undertaken to cooperate to control the spread of African swine fever (ASF), according to the German federal agriculture ministry (BMEL). Via video link, agriculture ministers of Poland and the Czech Republic have joined Germany to create an "animal health troika."
Explaining the need for international cooperation, Germany's agriculture minister Julia Klöckner highlighted that all the outbreaks of ASF in her country so far have been among wild boar near to the Polish border. Control of the disease can only be achieved by the three nations working together, she said.
To gain control of ASF, communications are set to continue between the states' ministers and chief veterinarians. They agreed that more carcass testing should be carried out. Furthermore, hunting in border areas will be coordinated, in order to minimize the movements of wild boar that could spread the virus further.
According to the BMEL, ASF has been circulating in Poland since 2014. Westward movement of the infection resulted in the first outbreak in Germany in September. This was in a wild boar, and there have been many positive cases over the past two months — all in wild boar. The Czech Republic's first ASF case was confirmed in 2017. Quickly isolated and brought under control, no cases have been detected in that country since 2018.
Ukraine reports return of ASF to 2 regions
Over the past week, two new outbreaks of ASF have been officially recorded by Ukraine's animal health agency. According to the latest reports to the World Organisation for Animal Health (OIE), these were in the regions of Zhitomir and Chernivtsi.
In Zhitomir oblast in northern Ukraine, the ASF virus was detected after two pigs died at a small farm this month. The remaining 27 animals at the premises have been culled. The source of the infection is unknown, as it has been absent from the region since January. The oblast shares a border with Belarus.
Within a few days, 17 pig carcasses tested positive for the ASF virus. They had been found discarded near a village in Chernivitsi, where the virus was last detected in June 2019. Located in the west of Ukraine, this oblast shares borders with Romania.
After a single confirmed outbreak in mid-August, Ukraine's agriculture ministry has declared to the OIE that the ASF situation in Ternopil has been "resolved." No further cases have been reported in this oblast since that time.
ASF situation in domestic pigs elsewhere in Europe
Romania has registered a further 41 ASF outbreaks in domestic pigs to the OIE over the past week.
Involving a total of 638 animals, all these outbreaks were in backyard herds of no more than about 70 pigs. They were widely dispersed across the country.
In the last week of October, Russia's agriculture ministry confirmed two new outbreaks of ASF in what it describes as "backyard" herds. Of almost 3,400 pigs in one herd in Samara oblast, 180 died. In Oryol oblast, five of the 74 animals died. The report does not describe the fate of the surviving pigs at either location.
Previously, ASF was confirmed at a large farm in Samara oblast, which is in the Volga federal district. Oryol oblast is in the Central federal district, where previous outbreaks have also been confirmed in recent weeks.
Up to November 8, there have been 1,038 ASF outbreaks among European pigs, according to the European Commission (EC) through its Animal Disease Notification System.
Recording the most outbreaks is Romania (877), and this is the only country to have registered new cases since the previous week's update. Only Bulgaria and Poland have added outbreaks to this system since October 1.
It appears that the EC has now ceased monitoring cases in Moldova and Ukraine. Russian outbreaks have never been included in the system.
European states record new ASF cases in wild boar
Up to November 8, EC has recorded 9,254 confirmed outbreaks of ASF in wild boar since the start of 2020. This is an additional 108 cases from the previous week.
According to this source, Hungary has recorded the most outbreaks — 3,665 — which is an increase of 16. At 3,506, Poland's total has risen by 36 over the same period.
Since the beginning of October, seven other European states have confirmed ASF outbreaks in wild boar to the EC: Romania (715 positive cases so far this year), Bulgaria (447), Latvia (252), Slovakia (210), Lithuania (193), Germany (134) and Estonia (57).
The latest update from the national chief veterinary office confirms a further 42 ASF outbreak in Poland's wild boar. These include one group of three animals, and one of nine. The others were individual cases. All have been found since October 16 in four provinces that have recorded previous outbreaks among the wild population.
Countries reporting new ASF cases in wild boar to the OIE over the past week were Romania (32 animals), Germany (23), Hungary (16) and Latvia (8).
View our continuing coverage of the global African swine fever situation.