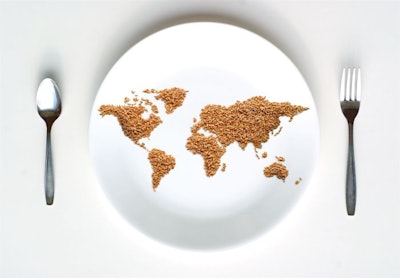 Despite challenges of 2020, global agricultural markets are strong, according to expert
Despite the coronavirus (COVID-19) pandemic and weather challenges in 2020, global agricultural markets are strong and U.S. exports of ag products are at record levels, according to Chad Hart, professor at Iowa State University and crop marketing specialist.
"When we're looking at the global agricultural markets, they have actually held in much steadier and been much more resilient than what we've seen in the general economies worldwide," Hart said last week during the American Feed Industry Association's (AFIA) Equipment Manufacturers Conference. "And, in fact, when we look at global production levels across the board within agriculture … they remain at or near all-time highs. We have seen our prices recover to near pre-COVID levels too, in some cases exceeding, and we've also seen a dramatic increase in trade here, especially as we've entered the last half of 2020."
Hart said there have been fewer acres globally dedicated to growing wheat in recent years, and instead those acres have gone to corn and soybeans.
"We have seen this worldwide phenomenon of smaller plantings of wheat, with that wheat area shifting into corn and soybean production as the world looks to create more feed products to create more meat," he said, adding that the 2020-21 crop year will see record production for corn and soybeans.
"One of the biggest driving features within the global agricultural scale right now is the need for protein worldwide and one of the things that had been driving that is, when we look at the developing world … we had been seeing fairly strong income growth. As incomes grow, that means protein demand grows," he said.
And it's not only crop production that is at record levels; meat production is too, despite the processing slowdowns that occurred early in the pandemic.
"As we look at 2020, this looks to be a record year in terms of meat production here in the U.S., and the outlook for 2021 suggests we will continue to see growth across all sectors of the meat supply chain."
Strong global demand for US ag products
U.S. soybean, corn and pork export sales are seeing record levels, Hart said, and beef is also seeing strong demand. At the start of harvest season, more than 1 billion bushels each of soybeans and corn had already been booked for export.
"We have this strong international demand, and it's not just limited to soybeans," he said.
Hart added that U.S. ag exports are seeing higher demand across many regions.
"It's not just one country," he said. "China is the major driver here, but it's not the only driver. In fact, when I look at the corn market, what I see is growth in many areas of the world" such as South America and Southeast Asia. "We're seeing a broad swell worldwide in terms of the demand for agricultural products, and that's helping boost prospects for income here in the U.S."
Pork export sales are seeing record levels as global markets try to fill the deficit created by the loss of millions of pigs in China and other countries as a result of African swine fever.
Demand for U.S. beef is not nearly as dramatic as other commodities, but it is growing nonetheless.
"China has become a major player here when we're looking at the beef market," and is now the fifth largest buyer of U.S. beef, Hart said.