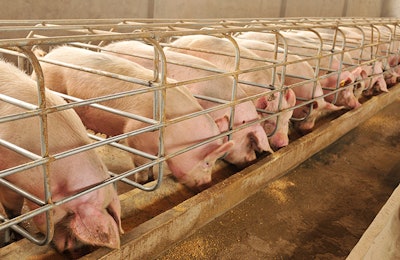 Preliminary test results on an ASF vaccine appear promising.
At the latest meeting of the national assembly, Vietnam's agriculture minister announced progress on strategies for the future control of African swine fever (ASF), reports Vietnam Express.
Preliminary tests on an ASF vaccine have delivered optimistic results, according to the minister, Nguyen Xuan Cuong. This led him to say that a vaccine might be available as early as the third quarter of 2021.
Additionally, scientists have set up a breeding program based on a group of pigs that appear to be resistant to ASF. The animals — around 80 in number — survived despite nearby outbreaks of the disease.
Gene sequencing for the vaccine research has also yielded information that will improve biosecurity procedures, and lead to the development of products to boost the immune system, according to the ministry.
The same source records that, since the first outbreak of ASF in Vietnam in February 2019, around 6 million of the national pig herd has been culled.
ASF returns to Laos and Myanmar
In August and September, 10 outbreaks of ASF occurred in Laos, according to the agriculture ministry. The official report received by the World Organisation for Animal Health (OIE) this week indicates that the outbreaks all occurred in herds of up to 275 animals in villages in the Xienghon district of Sainybuli (Xayabury) province. In total, more than 180 pigs died, and 987 have been destroyed.
Source of the infection is unknown. Located in the northwest of Laos, the province borders Thailand.
While the Laotian authorities describe these outbreaks as a first occurrence of ASF, OIE has recorded 141 outbreaks between June 2019 and the official declaration of the situation resolved at the end of last year. Affected were almost 39,000 pigs in 17 of the country's 18 regions.
With a single outbreak in mid-October, ASF has also returned to Myanmar, according to the official OIE report.
The disease was confirmed in what is described by the livestock ministry as a "backyard herd" of 780 pigs in Sagaing state. While the source of infection is unknown, the livestock ministry suspects illegal animal movements and swill feeding.
Located in the northwest of Myanmar, Sagaing shares an international frontier with India, and Arunachal Pradesh. In this Indian state, ASF outbreaks were reported this year.
According to OIE records, ASF was first detected in Myanmar in August 2019, with six outbreaks in Shan state. Subsequently, cases were confirmed in Kachin state in March, followed by others in Kayah state in July. In early October, the national veterinary authority declared the disease situation "resolved."
ASF-infected wild boar in Russia's Far East
According to the latest report from the agriculture ministry to the OIE, one wild boar tested positive for the ASF virus in early October.
The animal was found in Primorsky krai. Located in the Far Eastern federal district, the virus was first detected there in July 2019.
More wild boar test positive for ASF in South Korea
In South Korea, a further 29 wild boar found in the northern border region have tested positive for the ASF virus. The animals were found between October 8 and November 5 in districts of Gyeonggi and Gangwon provinces where previous outbreaks have been confirmed, according to the latest OIE reports.
No new cases of the disease have been detected among South Korea's domestic pigs, reports Yonhap news agency.
Last month, two outbreaks were confirmed on farms in Gangwon province.
Philippines continues ASF-related culling
Last week, a further 180 pigs were culled in the Mindanao province of Davao del Norte, according to Philippine News Agency (PNA). Located within 500 meters of known cases in the community of Cabayangan, the animals belonged to 30 owners, who will receive financial compensation.
After recent cases blamed on smuggled pork in other parts of the province, local pig keepers had been warned to set up and make use of disinfectant footbaths at the entry of their farms, reports PNA. They were also urged to cease swill feeding.
South Africa confirms 2 new outbreaks
With ASF cases confirmed at two more farms in Gauteng, South Africa's total outbreaks since April 2019 has risen to 26. More than 5,200 pigs have been lost to the through mortality or culling.
Around the start of this month, the disease was confirmed in a herd of 683 pigs near Randfontein after 18 of the animals died. This followed soon after another outbreak in the same area that was reported previously. Then, within days, further cases were observed among a herd of 35 pigs near Midvaal.
FAO supports Nigeria in ASF control
Continued spread of ASF in Nigeria will have adverse consequences on food security and socio-economic aspects of the West African state, according to the United Nations' Food and Agriculture Organization (FAO).
To help bring the disease under control, FAO has announced a new cooperative effort with the federal government. With funding from USAID, training will be given to officials involved in disease control, as well as to farmers, traders and transporters on biosecurity. This will be offered to people across much of the country.
Safeguarding the livelihood of pig farmers came into focus when ASF hit one of Africa's largest pig cooperatives in February. Within three months, 74,000 pigs had died, and losses amounted to NGN20 billion naira (US$53 million), according to FAO. It attributed the spread of infection to poor understanding of the disease by those in the value chain, and to a lack of compliance on biosecurity measures.
View our continuing coverage of the global African swine fever situation.