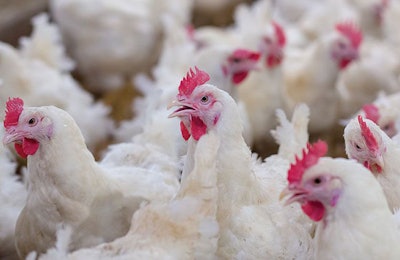 Rabobank report says pork, beef slaughter rates recovering from early pandemic lows
North American protein production has shown improvement from the challenges it faced early in the coronavirus (COVID-19) pandemic, according to Rabobank's North American Agribusiness Review for October.
Placement data from recent weeks is even with levels from a year ago, but average bird weights are 1% to 1.5% higher than a year ago. Ready-to-cook chicken production is down 1.4% year over year, with a 3% decline in head slaughtered, partially offset by weight increases. Fourth-quarter production is expected to be even with a year ago, and up 1.2% for the full year.
Hatchery supply was up 4% year over year, "suggesting that integrators may be either retiring a larger number of hens and/or are anticipating stronger broiler markets in the coming months," the report said.
Excess protein supplies on global and domestic markets are keeping prices down.
Pork production levels fluctuate with virus
Pork production is higher than it was a year ago, but levels fluctuate based on labor availability. Harvest levels are back to 95% of year-ago levels.
"With COVID-19-related disruption still an issue, it will be difficult to top 2019 slaughter in coming months," the report said.
U.S. pork exports were down 5% year over year in August; while China and Japan demand was up, it did not offset the slower sales into Mexico and South Korea. But Rabobank notes that export demand has strengthened in recent weeks, since Germany discovered African swine fever (ASF) in its wild boar.
"This latest development has materially strengthened the outlook for pork exports prior to the Chinese New Year, but does not change our outlook for gradually lower exports to China beginning in 2021," the report said.
Beef cattle backlog has cleared
Cattle slaughter rates have returned to, or slightly above, this time last year, and the fed cattle backlog that formed early on during the coronavirus (COVID-19) pandemic has cleared. However, Rabobank added, fed cattle weights are 20 pounds or more higher than a year ago. The report said that, through early October, beef production is down 1% from a year ago, and analysts said they expect total beef production in 2020 will be 0.5% higher than in 2019.
Beef demand is expected to be weak in the coming months, with holiday demand down from the usual levels and cold weather hampering outdoor dining in many areas.
Dairy surplus a possibility without federal aid
Milk production is elevated, and supply could see a surplus if government aid suddenly stops.
"The dairy industry has benefited from two rounds of direct payments to producers through the Coronavirus Food Assistance Program that has added as much as US$2 to US$3 per hundredweight to milk checks when averaged over the entire year," the report said. "There have also been three rounds of food box purchases through the Farmers to Families Food Box Program estimated to approach US$1 billion worth of dairy purchases."