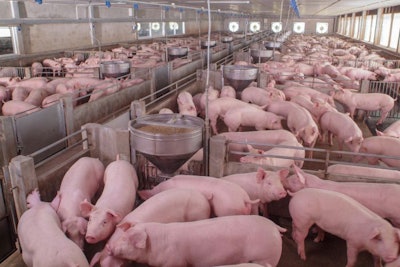 New Rabobank report details China, Germany pork markets and their effects on other producing countries
China appears to be at the epicenter of global pork markets, even as the country quickly restocks its hog herd after the devastating effects of African swine fever (ASF) over the past two years.
According to Rabobank's fourth quarter 2020 pork report, China accounts for 40% of global pork imports, but as it ramps up domestic supply, exporters are expected to have a hard time finding other places to send their products.
"Markets glimpsed how integral the Chinese market has become to the global trade balance following the trade dispute with Canada in 2019 and following the recent discovery of ASF in Germany," the report said.
The rate of China's re-establishment of its hog herd shows that the country is confident in its ability to manage additional ASF outbreaks, the report said. And the Chinese government has indicated that it intends to become largely self-sufficient in pork supply, thereby reducing the need for imports.
"Rabobank believes that, on its current course, China could return to 95% self-sufficiency as soon as 2024-25," the report said. "This provides a window of continued opportunity for global pork exporters to see incremental demand increases, but this window is likely to close in the coming years."
For 2021, Rabobank estimates Chinese pork production will be more than 10% higher than in 2020. This increase in production is expected to result in a 20-30% drop in imports – or about 1 million metric tons – in 2021.
"To put this in perspective, a drop of this magnitude equals about 10% of global pork trade or more than is imported by all but the top two importers," the report said. "With five countries responsible for 85% of total pork imports annually, it may be increasingly difficult to redistribute the pork no longer needed by China."
Effects of ASF discovery in Germany
After Germany reported its first ASF case in September, several Asian countries banned imports of its pork. However, Germany's exports to other EU countries are expected to continue, and a report this week said much of Germany's pork products that were originally destined for Asia are now supplying EU consumers.
Without access to its usual Asian export markets, Germany must find alternative buyers for approximately 75,000 metric tons of pork per month.
"Increasing exports to Denmark and the Netherlands would be a logical option in the short term, due to established business relationships," Rabobank said. "On the other hand, specific market standards for pork in Dutch retail outlets and constraints on foodservice demand may potentially limit the possibility of scaling up these export flows."
View our continuing coverage of the African swine fever outbreak.