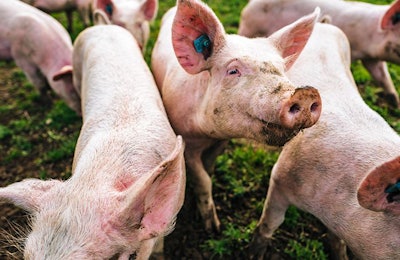 5 countries have officially recorded new cases of African swine fever in domestic pigs during the past week: Poland, Romania, Russia, South Africa and Ukraine.
With its first cases of African swine fever (ASF) more than two years ago, Romania's battle to control the spread of the disease continues.
Based on official reports to the World Organisation for Animal Health (OIE) submitted over the past week, a further 40 outbreaks have been confirmed in Romania. While one of these outbreaks dates back to July, most were detected between the end of September and mid-October. In addition, two discarded pig carcasses have tested positive for the ASF virus.
Affecting only backyard herds of up to 146 animals, the latest outbreaks directly impacted a total of 680 pigs.
Ukraine reports return of ASF to 2 regions
After a short absence from the country, ASF has returned to two oblasts in Ukraine.
According to the official report to the OIE, the Ukrainian veterinary authority confirmed one outbreak at a small farm in Kiev on October 19. Two days later, the virus was detected in a backyard herd in Donetsk. In total, 87 pigs were involved in these two outbreaks, seven of which died. ASF was last detected in the eastern oblast of Donetsk in October 2019, and as recently as the end of September in Kiev. Source of the latest infections is unknown.
Overview of the ASF situation in Europe's domestic pigs
Up to October 18, there have been 984 outbreaks of ASF among domestic pigs in Europe since the start of 2020, according to the Animal Disease Notification System of the European Commission (EC). For the whole of 2019, 1,908 outbreaks were registered with this agency.
The total has risen by 65 since the previous update two weeks prior. Of this increase, 63 of the new outbreaks were recorded in Romania, and two in Poland.
From this source, worst affected has been Romania (810 outbreaks). In second place is Poland with 100 registered outbreaks, while Bulgaria has recorded 19. Within Europe, the only other state to have registered new cases over the past month is the Republic of Moldova.
Over the past week, Poland's chief veterinary office has registered just one new ASF outbreak in domestic pigs. It involved a single animal at a holding in the eastern province of Lublin. This brings the country's total farm outbreaks since March to 101. Almost 57,000 pigs have been directly impacted by these outbreaks.
Europe's wild boar toll approaches 9,000
EC recorded 8,953 confirmed outbreaks of ASF in wild boar since the start of 2020 up to October 18. This represents an increase of 173 since October 5. Already, the figure well exceeds the 6,407 cases recorded for the whole of 2019.
According to this source, Hungary had recorded the most outbreaks — 3,608 — which is a jump of 39 more than the total two weeks previously. At 3,387, Poland's total has risen by 58 over the same period.
Since the beginning of this month, seven other European states have confirmed ASF outbreaks to the EC: Romania (688 outbreaks so far this year), Bulgaria (437), Latvia (230), Slovakia (187), Lithuania (186), Germany (70) and Estonia (51).
Reporting new cases in wild boar to the OIE over the past week have been Hungary (43), Romania (23), Russia (3), and Germany and Latvia (each with two).
Latest update from Germany's agriculture ministry puts the number of wild boar infected with ASF at 86. Since the first case detected on September 10, all have been in wild boar, and confined to three districts in the eastern state of Brandenburg. The nation's domestic pigs remain free of the disease.
Further outbreaks in South Africa
This month, presence of the ASF virus was confirmed in two village pig herds in Eastern Cape Province.
In total, 50 pigs were directly impacted by these outbreaks, which followed the mortality of 15 animals. According to the official report to the OIE, affected herds were in the municipalities of Great Kei and Buffalo City.
First ASF cases were detected in Eastern Cape Province in April. Since that time, the number of outbreaks has now risen to seven. All previous cases were in nearby Mnquma municipality.
Since April 2019, South Africa's agriculture department has also registered 23 ASF outbreaks in other provinces — Gauteng, Mpumalanga, North West Province and Free State. In this series, no new cases have been detected since July of this year, according to official reports.
All outbreaks so far have occurred outside the national ASF Control Zone.
2 more backyards infected in Russia's Far East
As well as the new outbreaks in its western regions, Russia's agriculture ministry reports new cases affecting two backyard herds in its Far Eastern federal district. Three of the total 21 pigs affected died at the two premises, which are located in the same district of Khabarovsk krai.
Since the first outbreak in August 2019, there have been 175 ASF outbreaks in this region of Russia. The number of pigs directly impacted stands at 4,778. These figures are based on reports to the OIE.
View our continuing coverage of the global African swine fever situation.