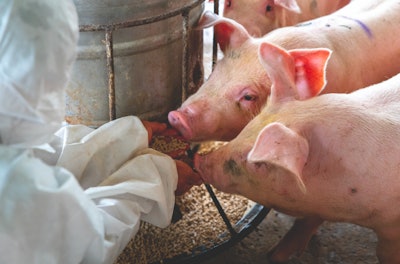 Science-based approach can help keep US free of foreign animal diseases even when importing products from ASF-positive countries
Research has shown that foreign animal diseases including African swine fever (ASF) virus can survive in feed ingredients. Because the U.S. imports feed ingredients from ASF-positive countries, the country needs to focus on responsible imports of these ingredients.
Dr. Scott Dee, director of Pipestone Applied Research, said the U.S. should "develop a science-based plan to safely import essential ingredients from countries of high risk."
ASF is present in Africa, Asia and Europe. Wild boar are a primary vector for spreading the disease, but Dee said feed is another.
"I want you to also consider feed. I'm going to show you some evidence why – besides wild boar, which is clearly the primary risk factor – you need to consider the risk of feed," he said during a recent webinar presented by Balchem Animal Nutrition and Health. The virus has "really moved a lot in Asia, and this is scary to the United States because we import a lot of products in from Asia."
Because it is common practice in Asia to dry grain on the ground and on roads, contamination is likely to occur.
"We have to realize that this is a potential place that viruses could potentially contaminate the feedstuff," Dee said, adding that Chinese research has found evidence of ASF virus DNA in the feed on the ground.
"The Chinese have also shown that ASF DNA was present in the feed mill environment, feed trucks and trailers, complete feed and bins, on people and in the fresh market," he said. "So, think of it almost like an atomic bomb goes off when these new viruses come into these susceptible national herds."
Risk of imported materials
The ASF virus is known to live for a long time in soy-based products, and the U.S. imports a lot of soy products from countries that have ASF. In 2018 and 2019, the majority of U.S. soy-based imports came from three ASF-positive countries: Ukraine, Russia and China, Dee said.
"China gets a lot of bad rap, but I think we have to also pay attention to the Eastern European countries that we're importing from too," he added.
This is where the concept of responsible imports comes in.
"We know that there are some ingredients we have to bring in from other countries because they're not made in the U.S.," Dee said. "Can we bring them in safely using science?"
He listed seven questions that importers should ask to ensure the safety of feed ingredients:
What is the ingredient and the country of origin?
Are there alternatives?
What is the virus of concern?
Do we know its half-life in feed?
What is the transport time from the source country to the mill?
Has any mitigation been applied?
What is the storage period?
Once the imported feed ingredients arrive at their destination, biosecurity measures should be applied, including a line of separation between the inside and outside of the facility, personal protective equipment, foot bath use upon entry, and covered and enclosed transport.
"It's almost like you put it in quarantine," Dee said. "This is basically very similar to how we handle the entry of breeding stock from other countries. It's almost like a health paper that the feed has to have now."
If the proper emphasis is put on the safety of imports, the risk of importing ASF along with feed ingredients can be lowered.
"We've got options to mitigate this risk, be it holding time, be it additives, and this information has brought a positive change in human behavior at the level of veterinary profession and the swine industry, how we're managing imports, almost quarantining the feed, that's changing human behavior," Dee said. "However, we have not made progress yet at the federal level, and I'm hoping we can work with (the U.S. Department of Agriculture) and (the U.S. Food and Drug Administration) to try to develop more of a national program."
View our continuing coverage of the African swine fever outbreak.