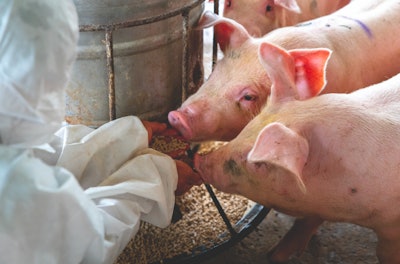 Among Germany's wild boar, African swine fever has spread to a new district in the eastern state of Brandenburg.
For the first time, Poland has recorded an outbreak of African swine fever (ASF) in domestic pigs outside an existing designated disease control area.
According to the agriculture ministry, the virus was detected at a farm in Kalisz county in Greater Poland province (Wielkopolskie). The official report to the World Organisation for Animal Health (OIE) puts the number of pigs at the affected location at 110.
This week, four new outbreaks of ASF have been recorded by Poland's chief veterinary office. Three occurred in herds of between two and 74 pigs in Lubartow county in Lublin province. The virus was also detected at a larger unit with 846 animals in Lipski county in Mazovia. This farm had had contact with a previous outbreak premises in the same area.
Latest outbreaks bring Poland's total in domestic pigs since March to 97.
This total includes 16 premises with more than 300 pigs. In the east of Poland, Lublin is easily the worst hit, but the infection has been confirmed in domestic pigs in six other provinces. Based on veterinary office reports, the number of pigs directly impacted by the ASF outbreaks is now approaching 57,000.
Ukraine has added Lower Silesia (Dolnoslaskie) to a list of seven Polish provinces from which it has already banned imports of pigs, pork and other products of porcine origin. According to Poland's veterinary office, the trade is now restricted to products processed according to Ukrainian regulations.
Romania confirms new outbreaks on large farms
In the period September 9-22, 31 outbreaks of ASF among domestic pigs in Romania were reported to the OIE.
According to the country's veterinary authority, two of these outbreaks were on large units with approximately 5,200 and 18,800 pigs, respectively. They are located in the south of the country in regions that border Bulgaria. In total, these latest outbreaks directly impacted more than 24,300 animals.
Other outbreaks in European pigs
Russia's agriculture ministry has reported one new ASF outbreak in its western territories. According to the OIE report, the virus was detected in a "backyard" herd of 140 pigs in Samara oblast around 10 days ago. At the premises in the Volga federal district, nine of the animals died.
During the month of September, the agriculture ministry has confirmed 11 ASF outbreaks in backyard herds to the OIE. Of this total, 10 were in Samara, and one was in Kaluga oblast (Central federal district).
In the past week, Ukraine's animal health agency has declared to the OIE that the ASF situation has been "resolved" in Kiev oblast. Quarantine restrictions have now been lifted from the only premises to be affected by ASF. The virus was detected at a farm in July, but no further cases have been found since that time.
The previous week, Sumy oblast was declared free of ASF by the Ukrainian authorities.
In the week to September 24, three European states reported new cases of ASF among domestic pigs to the European Commission (EC). Through its Animal Disease Notification Service, 40 new outbreaks were registered. These comprised 35 outbreaks in Romania, four in Poland and one in Slovakia.
More ASF-infected wild boar in Germany, other European states
A new case of ASF has been found in a wild boar in Germany outside the existing control area. According to the federal agriculture ministry, it brought the total cases in wild animals since September 9 to 37.
District of Märkisch-Oderland is the location of the latest case. As with previous cases, this belongs to the state of Brandenburg in the east of Germany. The first and eight subsequent cases among the German wild boar population were found in the district of Spree-Neisse, while the others were in Oder-Spree. All three districts share an international border with Poland, where ASF cases have previously been reported in border provinces.
Over the past week, other European countries reporting new cases of ASF among their respective wild boar populations to the OIE have been Hungary (19 animals), Germany (7), Latvia (3) and Romania (2).
EC has recorded 143 new outbreaks in wild boar during the past week. As well as the countries that have updated the OIE, new cases were confirmed in Bulgaria (2 outbreaks), Lithuania (3), Poland (61) and Slovakia (2).
Philippines retrospectively registers more ASF outbreaks
Over the past week, the Department of Agriculture has recorded a further 14 outbreaks of ASF with the OIE. All of these cases occurred on the island of Mindanao.
Between May 19 and August 27, these outbreaks directly involved 7,518 pigs. All animals belonged to backyard herds of between 45 and 1,536 animals in one of four provinces. Worst affected were Davao del Sur and North Cotabato, where cases have been confirmed since August 1. Reporting previous outbreaks were the provinces of Davao del Norte, Sarangani, and Davao Oriental.
These latest cases bring total outbreaks on Mindanao since January to 24. Almost 32,000 pigs were directly impacted by these outbreaks.
Last week, the department updated the OIE on the ASF situation on the island of Luzon. Here, the first outbreak was confirmed in July 2019. Since that time, 427 outbreaks have been confirmed, leading to the loss of more than 307,000 pigs through mortality or culling.
ASF in Russian Far East backyard herd
Over the past week, Russia's agriculture ministry has confirmed to the OIE one new outbreak of ASF in a backyard herd in its Far Eastern federal district.
Located in Primorsky krai, the affected herd had two pigs, both of which died.
Since August, the ministry has recorded 13 ASF outbreaks in this district. Directly affecting 362 pigs, the animals all belonged to backyard herds.
According to South Korea's environment ministry, the number of wild boar infected with ASF in South Korea stands at 745. Throughout the past year, most have been found in the inter-Korean border areas, such as Hwacheon, Yeoncheon and Paju, according to the Yonhap news agency.
View our continuing coverage of the global African swine fever situation.