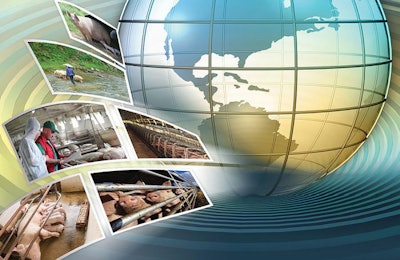 South Korea, China, Japan and the Philippines have banned pork imports from Germany
With the emergence of African swine fever (ASF) in Europe's largest pork-producing country, will U.S. pork producers see more export opportunities?
It may be too soon to tell, according to Nick Giordano, National Pork Producers Council (NPPC) vice president and counsel, global government affairs, and Neil Dierks, NPPC CEO.
Germany recently announced that it had confirmed the country's first case of ASF and, soon after, four countries – South Korea, China, Japan and the Philippines – announced that they would suspend German pork imports as a result.
"This will take time to play out because of consultations between governments," Dierks said. "Generally, these kinds of things have been positive to us; at the same time, it really outlines … the focused need of protecting our borders and, with that, our hog herd."
Giordano said that, while the U.S. is the top global pork exporter, it still faces challenges in some regions.
"The U.S. is the No. 1 exporter of pork in the world, but we still have some punitive tariffs on our exports to China. So, we are shipping a lot there; there is a possibility to ship more," he said. "Typically, when we get market access – when tariffs or non-tariff barriers drop or there's an unanticipated event like this that may create some more demand – we typically benefit, history shows. How much, I can't say for sure."
According to the U.S. Department of Agriculture, in 2019, the values of U.S. pork and pork products exported to Japan, South Korea and the Philippines were down from 2018, but exports to China saw an increase of 128%, at a value of US$1.3 billion. Exports to Japan were down 7% at US$1.523 billion, exports to South Korea were down 12% at US$593 million, and exports to the Philippines were down 20% at US$93 million. The Swiss Federal Statistics Office reported that German pork exports to China more than doubled in the first half of 2020, before its first cases of ASF emerged.
New opportunity in Taiwan?
Taiwan's Council of Agriculture recently said it would remove restrictions on the use of ractopamine in imported pork and has issued draft regulation establishing a maximum residue limit (MRL).
Giordano said this is a "positive" development, pointing to evidence of the safety of ractopamine and what he said is its relatively low usage in the U.S. The drug is approved for use in swine and beef in the U.S., but its use is banned in China and the European Union.
"We appreciate what Taiwan did. We know that this has been an emotional issue there on pork and beef, but it's taken 15 years," he said. "I hope I'm wrong, but we don't think this is going to significantly move the needle there."
View our continuing coverage of the African swine fever outbreak.