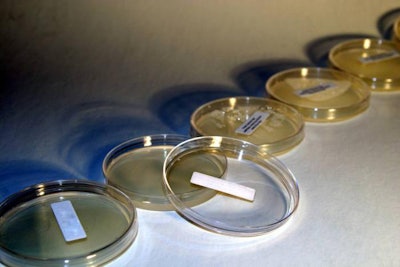 Plum Island researchers identify new method that could result in faster, more widespread ASF testing
Recent work from a team of Plum Island Animal Disease Center microbiologists could equip laboratories with faster, more readily available tests for African swine fever (ASF), potentially aiding in the prevention of future outbreaks.
Plum Island has identified a commercially available cell line, known as MA-104, that can be used to detect the presence of African swine fever. Although the research team says further work is necessary to validate and approve the use of the cell line, it could potentially replace the current testing substrate, which suffers from limited availability.
Real time RT-PCR remains the standard method for rapid or large scale-testing, according to Plum Island microbiologist Douglas Gladue. However, these real time tests are unable to distinguish between the live virus, or fragments of viral DNA, which means additional testing is necessary to confirm the presence of an ASF outbreak.
Currently, samples sent to a lab following a positive real-time result are tested using primary swine macrophages. These cells, however, must be "isolated fresh from donor swine, requiring the constant availability of healthy swine to be used as macrophage donors," Gladue said. This means that only labs outfitted with live donor swine are capable of testing for ASF, limiting the availability and therefore speed of testing.
Unlike macrophages, cell lines can be frozen and cultured in a laboratory setting. The use of a cell line to detect ASF could greatly increase the number of laboratories capable of confirming a live outbreak of ASF. Timely confirmation has been identified by researchers as key to preventing the introduction of ASF to new regions, and potentially the U.S. itself.
According to Gladue, MA-104 was identified as a suitable cell line for use in ASF testing as part of a large-scale screening effort funded by the U.S. Department of Homeland Security. He noted that the detection limits of tests using the cell line are slightly lower than when macrophages are used, however, he said the cell line would still be an asset to diagnostic laboratories worldwide.
Plum Island continues to search for a cell line that could be used to produce a vaccine for ASF, Gladue said.