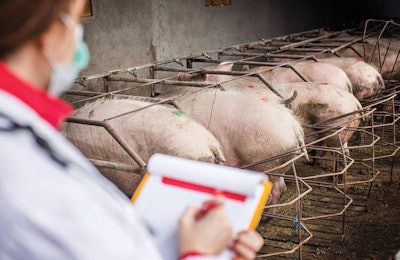 Poland has officially recorded 10 new outbreaks of African swine fever in domestic pigs over the past week, involving two large farms.
Over the past week, 10 new outbreaks of African swine fever (ASF) have been confirmed on farms in Poland. While some of the affected herds are small, two large farms — with approximately 1,900 and more than 2,600 pigs — have also been hit by the disease since July 22. According to the chief veterinarian's office, just over 5,800 pigs were involved in these latest outbreaks.
Occurring in three eastern provinces — the majority in Lublin, with cases also in Warmia-Masuria and Podkarpackie — the outbreaks were in areas where previous cases had been confirmed among the wild boar population. Three outbreaks in the Bilgoraj district of Lublin were linked, according to the agency.
The latest cases bring Poland's total outbreaks in domestic pigs so far this year to 17.
On Poland's western border, Germany has stepped up efforts to keep ASF out of its territory. According to Reuters, an additional 62 kilometers of fencing is being added to the preexisting 240 kilometers along the international border. The aim of the barrier is to exclude potentially infected wild animals from crossing into Germany. This year, ASF was confirmed in wild boar in Poland's western provinces.
ASF returns to Kiev in Ukraine
After 22 pigs in central Ukraine died, ASF virus was detected at the farm last week. The disease had been absent from Kiev oblast since last September, according to the official report to the World Organisation for Animal Health (OIE).
Source of the infection is unknown, reported the Ukraine's ministry for agrarian policy. At the time of reporting, culling of the herd was underway.
In the same week, the ministry informed the OIE that the ASF situation in Ternopil has been "resolved." There had been a single confirmed outbreak in a backyard herd in the western oblast in early June, but no further cases were reported there.
More outbreaks among Romanian backyard herds
Over the past week, the national animal health agency of Romania has officially recorded a further 23 new ASF outbreaks among domestic pigs. The majority of these cases were in the south of the country.
All 440 of the pigs affected belonged to backyard herds of up to 120 animals. Of the total, 63 died and the rest have been destroyed.
4 more outbreaks in western Russia
According to the latest report to the OIE from Russia's agriculture ministry, four backyard herds have tested positive for the ASF virus since mid-July.
In herds ranging in size from 32 to 48 animals, 156 pigs were involved in these outbreaks. Of the total, 30 showed symptoms, 18 died and 36 have been slaughtered.
Two of the affected herds were in Pskov oblast (Northwestern federal district). Additionally, there was one outbreak in Nizhny Novgorod (Volga district) and Tver (Central district).
Overview of the ASF situation in Europe's domestic pigs
Up to July 26, there have been 427 confirmed outbreaks of ASF among domestic pigs in Europe since the start of 2020, according to the Animal Disease Notification System of the European Commission (EC).
The total has risen by 69 since the last report dated July 7.
From this source, worst affected has been Romania (368 outbreaks). Bulgaria has reported 17 outbreaks, and Poland 14. Now with 12 outbreaks, Serbia's total has increased by nine over the past three weeks. With three and one outbreak, respectively, Latvia and Slovakia have been included in this series of reports for the first time in 2020.
4 European states report new cases among wild boar
EC has recorded 7,603 confirmed outbreaks of ASF in wild boar for the year to July 26. This represents an increase of 384 from the previous report on July 7.
According to this source, Hungary has the most outbreaks — 3,182 — which is a jump of 177 over the previous three weeks. Other states to have confirmed ASF outbreaks to the EC so far this year are Poland (2,891), Romania (578), Bulgaria (364), Latvia (171), Lithuania (141) and Slovakia (132). Also reporting new cases is Estonia, whose total now stands at 34.
Five other European states — Belgium, Italy, Moldova, Serbia and Ukraine — have registered ASF in wild boar this year, but there have been no new cases in recent months.
Over the past week, veterinary agencies of four European countries have reported ASF in wild boar to the OIE.
At 90, Hungary has confirmed the most new cases. In addition, there have been 21 in Romania, eight in Latvia, and three in western Russia.
Along with coronavirus (COVID-19) and trade challenges, ASF continues to impact global pork markets, according to a new report.
Research is emerging that suggests feed additives — alone or in combination — may help to reduce the risk of transmitting ASF in feed.
View our continuing coverage of the global African swine fever situation.