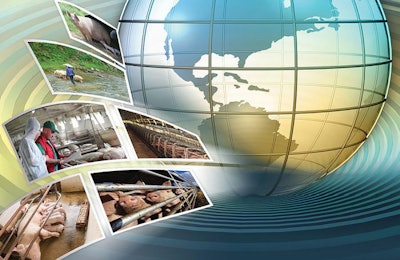 African swine fever, COVID-19, trade challenges weigh on pork markets
Rabobank has revised down its 2020 pork production forecast for major producing countries as a result of the uncertainties created by the novel coronavirus (COVID-19) pandemic.
"The impact of the COVID-19 pandemic on global pork supply chains is expected to be long-lasting," Rabobank said in its third quarter 2020 pork report. "Challenges in production, processing, trading and consumption could jointly reshape the industry, with changes expected in labor access, rising automation, product mix and distribution channels in the coming years."
Rabobank added that growing uncertainties will create volatile global trading conditions in the short term.
Global pork supply for 2020 was expected to decline by 5% from 2019, but Rabobank now says the decline will be 8%. The biggest declines are expected in countries hard-hit by African swine fever (ASF), including China, the Philippines and Vietnam.
Regional outlook
In the U.S., slaughter levels are "nearly back to historical norms" after processing plant slowdowns early in the pandemic, but deboning and further processing operations still face labor shortages. In addition, the backlog of hogs on-farm is expected to take months to be resolved.
Europe has also faced processing disruptions, but the pig supply was able to be diverted to other plants when shutdowns occurred more so than in the U.S. "Fundamental changes in labor issues" are expected in the longer term.
COVID-19 has affected consumption more than supply in China, but the country has faced logistical disruptions during lockdown, which "may lead to strategic responses by some players." The decline in animal protein consumption has squeezed processing margins. China's domestic pork production is expected to decline by 15% to 20% year over year in 2020.
Brazil's exports increased in the second quarter thanks to the resumption of trade with China. However, several slaughterhouses have had to suspend exports to China in recent weeks, and additional suspensions are possible. Feed prices in Brazil are the main concern for hog producers, with June's feed prices up 29% from the previous year.
Trade challenges
COVID-19-related labor shortages at ports, reduced ship movements, rising freight costs and temporary processing plant closures have created challenges for global trade. These uncertainties are expected to continue throughout the second half of 2020.
"China's dominance in global pork imports means that any change in China's import policy would add further uncertainty to global trading," Rabobank said.