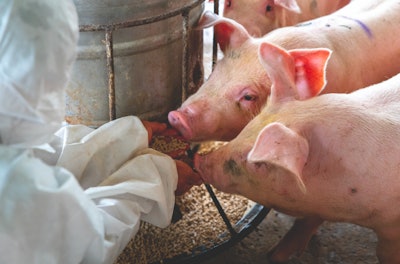 Patent based on K-State research that shows additive can mitigate ASF in animal feed
Iowa-based Kemin Industries has begun educating customers on the use of a formaldehyde-based feed additive to mitigate the transmission of African swine fever (ASF).
The company has licensed a patent from Kansas State University, which verified the efficacy of the product against ASF in a recent research trial. Mark Bienhoff, Kemin's pathogen control team leader, said Kemin collaborated on the K-State study after encouraging the university to investigate company data that suggested one of its products could be effective against the virus.
The product, Sal CURB, is a blend of formaldehyde and propionic acid used to control Salmonella. Formaldehyde, Bienhoff said, is an effective natural disinfectant that essentially sucks moisture out of cells, killing them. As ASF began to spread, Bienhoff said Kemin wanted to help — and had access to company data that suggested Sal CURB could also deactivate some viruses in the same manner that it kills bacteria.
"We went to [Kansas State University] and said, 'We believe this is a risk to the industry. How do you want to collaborate with us?'" Bienhoff said. "I am scared to death of ASF. I've seen it and if it comes here or gets established here, it's just devastating."
Kansas State University filed a patent for the use of Sal CURB to mitigate ASF after the successful trial, and Kemin has developed materials and programs to instruct swine producers on the product's use now that it has licensed the patent. The company is looking in to the possibility of adding the new use to Sal CURB's U.S. Food and Drug Administration (FDA) label, according to Kristi Krafka, Kemin's vice president of regulatory affairs and quality assurance.
Whether, or under what circumstances, to use Sal CURB to mitigate ASF remains a question of personal preference, according to Krafka.
"Producers may choose to use our product as part of their biosecurity program, but today, we have to note that Sal CURB is labeled as controlling Salmonella in feed ingredients."
Bienhoff added that while Sal CURB may be effective at reducing the overall amount of ASF virus present in feed ingredients, it's not a cure-all.
"We realize we do not have a silver bullet," he said. "Just doing treatment of the feed is not going to keep ASF out of your operation. It's just one component."
Other biosecurity measures, such as risk management, supply chain control and holding times, managing the movement of animals and people, and maintaining a hygienic environment are still critical, Bienhoff said.
View our continuing coverage of the African swine fever outbreak.