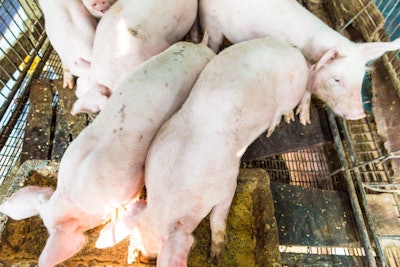 Animal health authorities in Poland, Romania, Russia and Serbia have registered new cases of African swine fever in domestic pigs.
Over the past week, Romania's veterinary service has confirmed a further 17 African swine fever (ASF) outbreaks among domestic pigs.
According to the official report to the World Organisation for Animal Health (OIE), all of the new cases were in backyard herds numbering no more than 50 animals. Involving a total of 134 pigs — 19 of which died — the outbreaks were widespread across the country, but in counties already recording previous cases. Remaining pigs at each affected premises have been destroyed.
Poland confirms sixth ASF farm outbreak this year
This month, a new ASF outbreak was reported by the Polish veterinary office.
ASF virus was detected at a small farm in Olecko, which is in the eastern province of Warmia-Masuria. With many confirmed cases among wild boar in this region, the outbreak was in an area described as "hazardous." The outbreak led to the loss of 122 pigs — including one boar and 10 sows — through mortality or culling to prevent the further spread of the infection.
These latest cases bring Poland's total ASF outbreaks among domestic pigs so far this year to six, involving almost 34,000 animals.
More ASF cases in Russia
In the first week of July, the agriculture ministry confirmed four new outbreaks of ASF in domestic pigs.
According to the official report to the OIE, one of the affected premises was a farm in Novgorod oblast. Two of the 1,662 animals there died. There was also an outbreak in a backyard herd in the same area, along with two more in Nizhne Novgorod.
Previous ASF cases have been reported in both Novgorod (in the Northwestern federal district), and in Nizhny Novgorod (Volga).
First outbreak in 2020 for Serbia
In its latest update, the European Commission Disease Notification System (ADNS) records a total of 358 ASF outbreaks in domestic pigs in Europe so far this year.
This represents an increase of 17 from the previous week's report. Romania accounted for 13 of these latest outbreaks. There were also new outbreaks registered in Poland (1) and the Republic of Serbia (3). These are the first cases in Serbia in 2020.
From this source, by far the country in Europe worst affected by ASF this year has been Romania (321 outbreaks). Also reporting cases in 2020 have been Bulgaria (17 outbreaks), Ukraine (8) and Poland (6). Greece, Lithuania and Moldova have each recorded one outbreak.
Wild boar cases exceed 7,200 so far this year
Europe's count of ASF cases in wild boar so far this year has reached 7,219, according to the EC-ADNS system. This is an increase of 159 from the previous week's total, and includes 67 new cases in Hungary, 56 in Poland, 13 in Latvia and 11 in Romania.
At 3,005 and 2,793, respectively, Hungary and Poland have reported the highest number of infected animals since the start of 2020.
Other countries that have reported significant numbers of ASF-infected wild boar to the EC so far this year are Romania (550 cases), Bulgaria (340), Latvia (146), Slovakia (125) and Lithuania (122). Also reporting new cases over the past month was Estonia.
Over the past week, five states in Europe have confirmed to the OIE further cases of ASF among their respective wild boar populations.
Reporting the most cases — 334 — Poland accounted for the majority of the latest cases. The animals were found dead or killed in five eastern provinces during the period February 8 to March 17 of this year.
A further 61 positive cases were detected among wild boar in Hungary in the last two weeks. New cases were also reported to the OIE by Latvia (8 animals), Romania (7) and Russia (1).
View our continuing coverage of the global African swine fever situation.