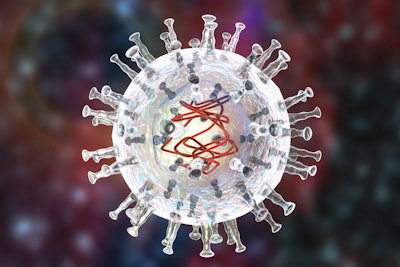 New K-State research highlights importance of biosecurity in and around the feed mill to prevent the spread of pathogens.
Around the world, livestock and poultry science researchers continue their never-ending quest to understand, mitigate and prevent the spread of foreign animal diseases. In the United States, Kansas State University has been on the forefront of African swine fever (ASF) virus research.
At the virtual edition of the American Feed Industry Association's (AFIA) Purchasing & Ingredient Suppliers Conference (PISC), Dr. Cassie Jones, the undergraduate research coordinator in Kansas State University's Department of Animal Sciences & Industry, presented an update on the latest ASF findings.
A recent study conducted at the university's biosafety level 3 (BL3) Biosecurity Research Institute (BRI) concluded that ASF contamination spreads beyond direct contact surfaces in the feed production system to nearby transient surfaces with greater prevalence and at higher viral concentration levels.
K-State researchers, working with live ASF virus, introduced it to feed in a specially constructed feed mill consisting of a mixer and a bucket elevator to determine how it spreads in a feed mill.
The team made six batches of swine feed. The first (Batch 1) did not contain ASF. In Batch 2, a feed ingredient was contaminated with live ASF virus was added to the mix. Batch 3, as well as all the subsequent batches (Batch 4 to 6) produced in the mill did not have additional ASF virus added.
"Theoretically, while we would expect Batch 2 to have high levels of ASF virus, Batches 3, 4, 5 and 6 should be ASF free," she explained.
They measured the prevalence of ASF in each batch and the likelihood ASF would be found on any surfaces.
In the feed manufacturing system contaminated during Batch 2, more than 80% of feed contact surfaces tested positive for ASF, e.g. inside of the mixer, in the spouting, bucket elevators, the belting area and the discharge spout. Batch 3 was also positive, but then the viral load started to reduce slightly with subsequent batches.
"ASF is not like a drug where we could maybe sequence or we could flush away our risk, even for batches later. We were still seeing about half of our feed contact surfaces with ASF presence."
What really interested the team: Where else will the virus distribute within the mill, i.e. walls, floors, ceilings? The team tested non-feed equipment contact surfaces less than one meter from the manufacturing area.
"As soon as we introduced ASF into the manufacturing area, all of those areas went positive," Jones said.
Jones noted that, despite excellent ventilation (remember, the room is built for ASF contamination not for feed milling), after adding ASF into the manufacturing process, half the surfaces went — and remained — positive for ASF.
Prevalence of ASF contamination on transient surfaces
Jones find the team's revelations regarding transient surfaces the most concerning. Jones defines transient surfaces as anything that moves within the feed mill, i.e. an employee's shoes or footwear, trucks, etc.
"As we introduced ASF into the manufacturing environment, we found that all of our transient surfaces went positive and stayed positive," she said. "That's probably the scariest thing that I have seen with this disease thus far, and our research associated with it."
Despite being careful throughout the process and "not intentionally walking through a puddle of ASF," samples taken from the bottom of their boots to test the prevalence of ASF contamination, as detected by qPCR (quantitative polymerase chain reaction), tested 100% positive throughout the manufacturing of Batches 2 to 6.
"All of the initial ASF was introduced into the mixer through a very specific and careful process, so the fact that we had initial contamination on all of the boot bottoms was quite astounding. And then those samples remained positive throughout the entire production process. And so, even though we continue to walk around and probably continue to spread ourselves around the room, our boot bottoms stayed positive."
Here, it should be noted that ASF virus can survive on fomites for extended periods of time, which is strange for a virus, which typically dies quickly outside of its host. In fact, according to Jones, the virus can live on some surfaces for days to months.
Likelihood of ASF contamination
Another aspect to consider: the quantity of contamination.
The K-State team then measured the concentration of contamination or the quantity of virus that was detected. First, looking at feed contact surfaces, after ASF was introduced into the mixer in Batch 2, they found their highest level of contamination, which was considered below the infectious dose. (See Megan Niederwerder's research)
Batches 3 to 6 also saw a reduction in the quantity of ASF on contact surfaces.
"This is a good thing, but again, we're not able to completely remove it," Jones said.
However, the amount of ASF did not reduce on transient surfaces over time.
"As soon as we introduced ASF into the feed, we had higher levels on the transient surfaces on our boot bottoms than we did on the inside of the mixers, which I think is quite strange," she said. "In fact, a high level of the virus remains. So, not only did it remain on our boots, but it remained in very high levels. So that's quite concerning."
Practical tips for keeping pathogens out
Jones feels it is important for feed producers to understand how ingredients are contaminated, the trans-boundary survival of pathogens and their capability to cause infection, and how to stop transmission.
"We all play a role in preventing pathogen entry and spread," Jones said. "In terms of feed mill biosecurity, we need to exclude high-risk ingredients, consider some active mitigation and be implementing feed mill biosecurity. We don't know that pathogens are associated with one of the farms we feed until it's too late."
She offers several tips to limit pathogen transmission through feed:
Avoid and exclude high-risk ingredients
Know where ingredients are coming from
Require enhanced biosecurity protocols, i.e. regulating footwear/foot traffic from outside to inside of a facility
Take advantage of opportunities to reduce viral survival, i.e. holding times for higher risk ingredients, chemical or thermal mitigation, or changing the exposure rate.
Jones' conclusion: The feed supply chain is not the most likely route of viral entry into animals but, when it is, it can quickly spread disease.