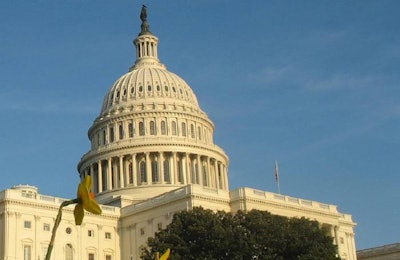 The Senate Homeland Security and Governmental Affairs Committee unanimously approved bipartisan legislation that addresses the shortage of agricultural inspectors at U.S. ports of entry.
Agricultural inspectors work to protect the nation's food supply and agricultural industries by preventing the intentional or unintentional entry of harmful plants, food, animals and goods into the United States. This includes protecting the nation's livestock and poultry from imported animals that might carry African swine fever (ASF) or highly pathogenic avian influenza (HPAI).
Under the legislation, U.S. Customs and Border Protection (CBP) would be authorized to hire additional inspectors to fully staff U.S. airports, seaports and land ports of industry.
The bipartisan bill was introduced by Sens. Gary Peters, D-Michigan; Pat Roberts, R-Kansas; John Conyn, R-Texas; and Debbie Stabenow, D-Michigan. Peters serves as the ranking member of the Senate Homeland Security and Governmental Affairs Committee, while Roberts and Stabenow are respectively chairman and ranking member of the Senate Committee on Agriculture, Nutrition, and Forestry.
"Agricultural inspectors help secure our country from serious threats that could disrupt our food supply or endanger our agricultural industry," Peters said in a press release. "We need more inspectors and support staff to effectively carry out this vital national security mission and protect Americans' health and safety. I'm proud to have led this bipartisan effort, and I look forward to the full Senate passing this bill as quickly as possible."
The legislative action comes about a week after National Pork Producers Council (NPPC) President David Herring testified before the House Agriculture Subcommittee on Livestock and Foreign Agriculture about the need for more inspectors to help keep ASF out of the United States. "We can all agree that we need to keep this deadly swine-only disease out of the USA," he said, adding that appropriations funding for 600 additional inspectors would help keep ASF away.
Swine industry responds
Responding to the news of the bipartisan bill, Herring stated: "Preventing the spread of African swine fever and other foreign animal diseases to the United States is our top priority. We appreciate all that the U.S. Department of Agriculture and the U.S. Customs and Border Protection are doing to strengthen biosecurity at our borders. To further safeguard American agriculture, we need additional agriculture inspectors at our sea and airports. This essential legislation will help address the current inspection shortfall, reduce the risk of ASF and other foreign animal diseases, and protect the food supply for U.S. consumers."
Mary Kelpinski, CEO of the Michigan Pork Producers Association, also praised the action.
"With the outbreak of African Swine Fever in China and many other countries around the world, U.S. border safeguards are more important than ever to protect America's food supply," said Kelpinski. "Border security professionals must have the resources necessary to carry out this critical mission and protect our nation from contaminated or fraudulent imports. This commonsense legislation will help ensure our farmers can continue to produce the highest quality products—without fear that foreign imports will compromise the quality of U.S. goods."