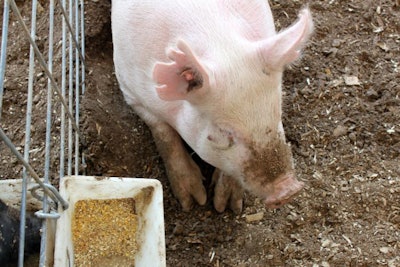 Further outbreaks of African swine fever (ASF) have been confirmed in domestic pigs in Asia, as well as in South Africa and central and eastern Europe.
Despite efforts to gain control over the disease, outbreaks of African swine fever continue to be reported in Asia, Europe and South Africa.
Veterinary authorities in Laos have officially reported three new outbreaks to the World Organisation for Animal Health (OIE) in the past week. Cases were found among a total of 1,406 pigs in two villages in the province of Savannakhet, which borders Salavan, where previous outbreaks have occurred since June. ASF has also spread to a new area in the capital city, Vientiane, affecting a farm where 96 of the 110 animals died.
ASF has also spread to a new province in Cambodia. Two village herds in Kandal province were infected with the virus in the first week of July. In one, all 59 animals died, and 95 of the 164 pigs met the same fate at the other village. Kandal shares borders with Vietnam, as well as the Cambodian provinces of Kampong Cham and Takeo, where previous outbreaks have been confirmed since June.
China's agriculture ministry has reported to the OIE two new ASF outbreak in domestic pigs. The first was in the Huanggang region of Hubei province, at a farm with 102 animals, five of which died and the rest have been destroyed. The last outbreak to be reported in the province was in March.
There has also been a further outbreak in the Leshan region of Sichuan, at a farm of the same size. The last outbreak in this province was in a different district, and in May.
South African ASF outbreak total reaches 11
OIE has been informed by the agriculture department in South Africa of a further two recent ASF outbreaks. Latest to be affected were a village herd in Ekurhuleni in Gauteng province, and in Ngwathe in Free State. At both locations, previous outbreaks have been detected since April this year. A total of 92 animals were involved in these latest outbreaks, including 23 mortalities.
New ASF cases in domestic pigs in Europe
Poland's total number of outbreaks affecting pig farms so far this year has risen to 17, with cases at five locations in early July reported to the OIE. Ranging in size from 8 to 1,790 animals, a total of 1,831 pigs were lost as a result of the outbreaks, two of which were in Lublin, and three in Warmia-Masuria in the east of the country.
There have been a further 182 ASF outbreaks in Romania since the end of July, based on reports from the veterinary authority to the OIE. Affected were a total of 1,401 pigs in backyard herds in the south, southeast, and northeast of the country.
Since the first cases in early July, ASF appears to be spreading rapidly among domestic pigs in northern Bulgaria. The animal health agency has reported a further 14 outbreaks to the OIE. Affecting a total of 77 pigs, the cases were on two farms and in 12 backyard herds. From the first outbreak in Pleven, the disease has spread to a further four counties.
After an eight-month absence, ASF has returned to central Ukraine, according to the official report to the OIE. The disease was confirmed at a farm of 302 pigs in Poltava oblast after 13 of the animals died. The rest of the herd has been destroyed. Source of the infection is unknown.
There have been three new outbreaks among backyard pig herds in Russia, affecting a total of 95 animals. According to the official report to the OIE, two of these outbreaks were in the Ulyanovsk oblast in the Volga federal district, and one in Volgograd oblast in the Southern Federal District.
ASF continues in European wild boar
Several European countries have reported ASF outbreaks among wild boar in the past week.
Worst affected in terms of recent outbreaks has been Romania (33 outbreaks involving 167 animals). Other countries where outbreaks have been confirmed are Hungary (13), Latvia (8), Bulgaria (4), and Russia (3).
In recent days, the Polish authorities have reported to the OIE 45 outbreaks affecting 76 wild boar between April 11 and 24.
View our continuing coverage of the African swine fever outbreak.