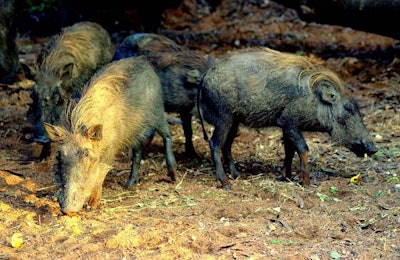 A possible African swine fever vaccine (ASF) has been developed and tested in wild boars in Spain, and one of the researchers indicated it may be able to protect other pig herds.
According to a Frontiers in Veterinary Science article, University of Madrid researchers, led by Jose A. Barasona, obtained 12 wild boar piglets. Initially, nine of the wild boars were orally treated with the experimental vaccine, 104 TCID50 of Lv17/WB/Rie1 ASFV. The remaining three animals were exposed to the vaccinated animals to test the vaccine transmission at different times.
The vaccine was created using serum from a wild boar hunted in Latvia in 2017, which tested positive for ASF.
"Our study demonstrates the effectiveness of the first oral vaccine against this disease on Eurasian wild boar. Overall, we demonstrate that oral immunization of wild boar conferred 92 percent protection against a highly pathogenic strain of African swine fever, which is currently circulating in Asia and Europe," Barasona told foodprocessing.com.
ASF has wiped out as much as 35 percent of the commercial pig herd in China, the world's biggest pig producer and pork consumer. But it has also been confirmed in wild boars in a number of European countries.
Also, the World Organisation for Animal Health (OIE) presently has active reports for ASF detections in Cambodia, Poland, Romania, Ukraine, Belgium, Moldova, Zimbabwe and Hungary.
License for experimental ASF vaccine planned in US
Meanwhile, the he U.S. Department of Agriculture (USDA) Agricultural Research Service (ARS), announced that it intends to grant an exclusive license for an experimental African swine fever (ASF) vaccine claimed in the U.S. to Huvepharma EOOD of Sofia, Bulgaria.
According to a notice on the Federal Register, the license is to be granted to Huvepharma for Patent No. 9,463,234, "ATTENUATED AFRICAN SWINE FEVER VIRUS STRAIN INDUCES PROTECTION AGAINST CHALLENGE WITH HOMOLOGOUS VIRULENT PARENTAL VIRUS GEORGIA 2007 ISOLATE", issued on October 11, 2016.
USDA ARS is seeking public comments on the matter.
View our continuing coverage of the African swine fever outbreak.