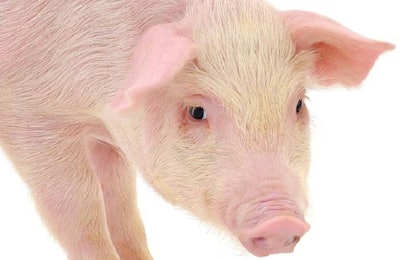 The U.S. Department of Agriculture (USDA) Agricultural Research Service (ARS), announced that it intends to grant an exclusive license for an experimental African swine fever (ASF) vaccine claimed in the U.S. to Huvepharma EOOD of Sofia, Bulgaria.
According to a notice on the Federal Register, the license is to be granted to Huvepharma for Patent No. 9,463,234, "ATTENUATED AFRICAN SWINE FEVER VIRUS STRAIN INDUCES PROTECTION AGAINST CHALLENGE WITH HOMOLOGOUS VIRULENT PARENTAL VIRUS GEORGIA 2007 ISOLATE", issued on October 11, 2016.
USDA ARS is seeking public comments on the matter, and comments must be received on or before May 22. Comments can be mailed to USDA, ARS, Office of Technology Transfer, 5601 Sunnyside Avenue, Rm. 4-1174, Beltsville, Maryland 20705-5131.
While there have been no confirmed cases of ASF in the United States or North America, many people, including INTL FCStone's Arlan Suderman, says it is not a matter of if, but when the pig disease reaches the continent.
ASF has wiped out as much as 35 percent of the pig herd in China, the world's largest pig-producing and pork-consuming country. The Chinese ASF outbreak alone, "has far-reaching effects across global agricultural sectors," Maple Leaf Foods CEO Michael H. McCain said recently.
The World Organisation for Animal Health (OIE) has also reported new cases in recent days in Vietnam, Romania, Ukraine, Belgium and Russia. While there were two new cases of ASF in domestic pigs in Romania, many of those other new cases in Europe involved wild boars.
As a result of ASF and the widespread pig losses it has caused, economists and analysts speaking at the International Poultry Council's first semester meeting made predictions that poultry will surpass pork as the world's most consumed meat, and that pork may never regain its leading spot.
View our continuing coverage of the African swine fever outbreak.