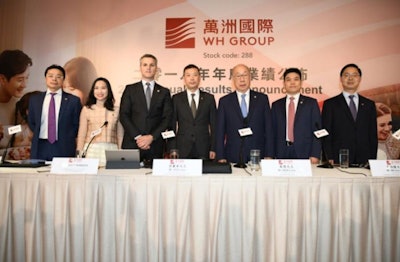 Citing challenges with the global trade situation and African swine fever (ASF) outbreaks, China's WH Group reported a 4 percent drop in profit, but a 1 percent increase in revenue for 2018.
The world's largest pork company reported its 2018 financial results on March 15. Like the calendar year, the company's 2018 fiscal year ended on December 31. WH Group's profit attributable to owners for the year was US$1.047 billion, while its revenue was US$22.605 billion.
"In 2018, despite international geopolitical tensions, the deterioration of the global trade situation, and the outbreak of African swine fever in China and some parts of Europe, the major segments of WH Group managed to expand their business scale," the company stated in a press release. "(The decrease in profit attributable to owners for the year) was mainly due to the negative impact of the group's trade in fresh pork in the U.S., which was caused by trade disputes between the U.S. and China and Mexico.
"However, the performance of our China business and the global business of packaged meats recorded impressive results, with operating profit up 7.8 percent year-on-year to US$1.547 billion. The increase highlights the two major advantages of the group: its global presence and vertically integrated industrial chains.
WH Group, which is the parent company of U.S. pork producer Smithfield Foods, also reported that it took advantage of low hog prices to expand its production and distribution network. Its hog processing volume in China increased by 14.3 percent to 16.3 million head during the year.
In addition to being the world's largest pork company, WH Group is the 15th largest poultry company in Asia, according to the Poultry International Top Poultry Companies survey. It slaughters 192 million broilers annually. WH Group's poultry operations include broilers, turkeys, ducks, geese and table eggs.