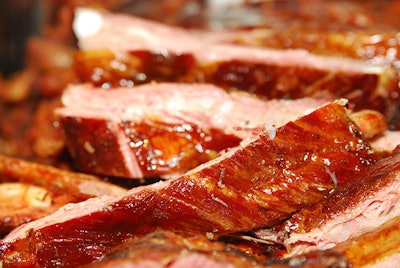 Canada has added $31 million in new funding to increase the number of detector dogs at the country's airports to prevent illegally imported meat products from entering its borders.
This funding will allow for the addition of 24 detector dog teams over five years, bringing the total number to 39 Food, Plant, and Animal Detector Dog Service (DDS) teams.
Illegally imported meat and meat products from countries affected by African swine fever (ASF) present one of the greatest risks for introducing this animal disease to Canada. Detector dogs are the best available method to intercept meat products, making them the most effective tool in protecting Canada's swine population from ASF as well as other animal diseases.
Canada is recognized internationally as having strong programs in place to prevent and control the spread of foreign animal diseases into and within the country. The government of Canada continues to work with partners to maintain a high level of vigilance through actions that include:
The Canadian Food Inspection Agency (CFIA) is raising awareness among travelers through social media and has already reached more than 20 million people with its ASF campaign. Additional signage has been placed at airports reminding travelers of the requirement to declare all food and animal products at the border to keep foreign animal diseases, including ASF, out of Canada.
The Canada Border Services Agency (CBSA) has redirected detector dog capacity to key international airports to better focus on passengers and goods coming from high-risk areas.
CBSA's border services officers have been provided with guidance on applying the penalty of $1,300 to travelers who fail to declare pork or pork products or any other meat when entering the country.
The CFIA is considering implementing measures to prevent infected animal feed ingredients from ASF-affected countries from entering Canada and is closely monitoring the international situation to ensure the CBSA has the right border controls.
The CFIA is partnering with Canada's pork industry, industry associations and provinces to generate awareness and help maintain a high level of vigilance and standards on pig farms across the country.
Collaboration
In addition to these measures, the Government of Canada is also working with industry, provincial, federal and international partners:
The CFIA worked with provincial partners so that more laboratories can test for ASF.
The CFIA is engaging international partners on approaches to zoning, so that trade disruptions can be minimized, should ASF enter Canada. It is also collaborating internationally to further scientific understanding of the disease, engaging with international bodies and European and Asian governments to learn from their experiences, and supporting international efforts through the Global Framework for the Progressive Control of Transboundary Animal Diseases.
The CFIA is also working closely with North American partners and counterparts to harmonize testing protocols, share intelligence and take collective action from a pan-North American perspective. This includes participating in joint exercises on ASF with our American and industry partners.
View our continuing coverage of the African swine fever outbreak.