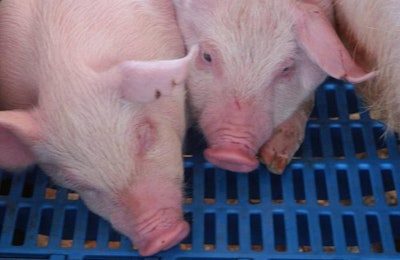 With African swine fever (ASF) apparently spreading rapidly across northern Vietnam, the government is working on stronger measures to control the disease, while new outbreaks have been confirmed in China, Romania and Russia, as well as among the European wild boar population.
The latest official reports from Vietnam's agriculture ministry to the World Organisation for Animal Health (OIE) outline 56 new confirmed ASF outbreaks in domestic pigs during the second week of March. All 2,097 animals affected are described as belonging to village herds. These included clusters of 19 outbreaks in Thai Binh province and 18 in Hung Yen. As in recent weeks, all affected pigs were culled before symptoms of the disease were recorded.
Included in this report were first outbreaks in seven provinces, bringing the total number of provinces affected over the last month to 17. All affected areas are in the north of the country, in the regions of Red River Delta, North East, North West, and North Central Coast.
ASF has now affected 221 communes, and more than 23,400 pigs have been culled, according to the head of the agriculture ministry's veterinary department. Pham Van Dong told Vietnam News that no outbreaks have so far been reported on large farms.
To prevent the infection spreading to areas in the south that are important for commercial pig farming — Dong Nai and Ho Chi Minh City — checkpoints have now been set up in Vietnam's central provinces.
Officials have blamed "irresponsible" farming, transportation, and trade for the spread of the ASF virus within Vietnam, in particular the feeding of smallholders' herds with kitchen waste.
Involving the ministries of agriculture and industry, among others, high-level meetings were held last week to discuss measures to prevent further ASF outbreaks, reported Vietnam Plus.
As a consequence of the ASF outbreaks, pork sales from supermarkets have risen sharply, according to another report in Vietnam News. Consumers increasingly choose to purchase meat with clear origins, and supermarket chains say they monitor their pork sources.
China: ASF outbreaks 'declining'
In China, the number of ASF outbreaks have been declining, and the disease situation will be brought under control, according to Dr Monique Eloit, OIE director general.
China's agriculture ministry reports Eloit's comment that the country's disease prevention and control policies are correct.
In its latest official reports to the OIE, the ministry outlines two new ASF outbreaks. One was at a farm in Guangxi, where 3,172 animals were lost to the disease through mortality or culling. And in Sichuan, 141 pigs were culled and nine died after testing positive for the ASF virus at a highway toll in Linshui county.
In Myanmar, the informal import of pig meat and pork products has been halted, and the country is also suspending incoming trade of such products from all countries affected by ASF, reports Xinhua.
In Taiwan, a third pig carcass found on a beach has tested positive for the ASF virus, reported Focus Taiwan last week. No signs of the disease have been found at any of the farms in the area.
More ASF in Europe's backyard pig herds
Veterinary authorities in Russia and Romania have reported to the OIE new outbreaks of ASF in their respective non-commercial pig sectors.
In Romania, there have been four such outbreaks recently, involving a total of 53 pigs, all in the southeast of the country. Three of the outbreaks were in backyard pig herds, and five carcasses found at Tufani also tested positive for the virus.
ASF has been confirmed in a herd of eight pigs belonging to a backyard herd in Rostov oblast, according to Russia's agriculture ministry.
Ukraine's animal health agency has declared the ASF situation in the central province of Cherkasy to be "resolved." No further cases have occurred since 36 pig carcasses found near a village tested positive for the virus in December last year.
To March 10, there have been 73 outbreaks of ASF in domestic pigs in Europe so far this year, according to the European Commission (EC). Worst affected has been Romania (with 64 outbreaks), followed by Ukraine (7), and one each in Italy and Poland.
More outbreaks in Europe's wild boar populations
In the past week, the veterinary agencies of four European states have reported new cases of ASF in wild boar — Poland (93 cases), Romania (79), Belgium (28), and Russia (1).
The Polish, Romanian, and Belgian cases were all in areas where previous outbreaks have occurred. The Russian case was a single animal found dead in the Kabardino-Balkar Republic, which is in North Caucasus.
EC puts the total number of ASF outbreaks in wild boar in Europe at 1,606 since the start of 2019. Poland has reported the highest number of outbreaks (557), followed by Hungary (319), Belgium (292), Romania (139), Lithuania (118), and Latvia (112). Cases have also been confirmed in Bulgaria, Estonia, Italy, and Ukraine.
Concerned about the potentially devastating impacts of ASF entering the country, the USDA has recently announced a series of measures to keep the disease out of the U.S., and Canada has increased the number of detector dogs at points of entry to prevent illegal meat imports.
View our continuing coverage of the African swine fever outbreak.