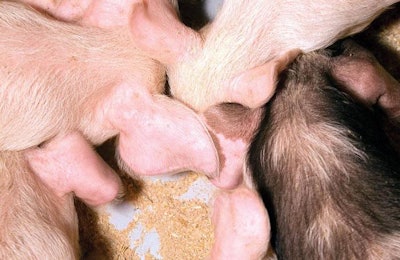 The ongoing outbreaks of African swine fever (ASF) in China, Belgium and elsewhere, have crystallized the U.S. pork industry's focus and collaboration on finding new ways to help protect the domestic hog herd from costly foreign animal diseases (FADs), the National Pork Board said in a recent press release.
"The National Pork Board has been preparing for ASF and several other FADs for about two decades in the U.S.," said Cindy Cunningham, assistant vice president of communications with the National Pork Board.
There is a website that has been designed to be the central source of information for all FADs and created in collaboration with the National Pork Board, National Pork Producers Council, American Association of Swine Veterinarians and the Swine Health Information Center.
Cunningham said the following points are important for producers to discuss with their feed suppliers before purchasing feedstuffs:
Describe the feed facility's biosecurity program to minimize the spread of pathogens from people, vehicles and ingredients.
Describe the facility's employee training on feed safety.
Describe the facility's pest control program.
Describe the facility's traceability program.
Describe the facility's supplier approval program.
Is the facility certified by a third-party certification body for food safety? Third-party certification programs may include the Feed Additives Manufacturers (FAMI-QS), the International Organization for Standardization (ISO), the Safe Quality Food (SQF), Safe Feed/Safe Food, etc.
Does the facility utilize ingredients that were manufactured or packaged outside of the United States?
Holding time for feedstuffs may reduce risk
According to a press release from the National Pork Board, "one new practice designed to reduce disease transmission risk involves knowing exactly how long certain feed ingredients have been securely stored before allowing their use on pig farms."
It is possible for swine disease viruses to survive in shipments of certain feed ingredients during shipping to U.S. ports and even to inland points of feed manufacture.
"A holding time of 78 days after the date of manufacture and bagging or sealing to prevent additional contamination ("born on date") for amino acids, minerals or vitamins will degrade 99.99 percent of viral contamination. The holding time extends to 286 days for soybean meal to allow for similar viral degradation, once shipped to prevent additional contamination," the press release said.
There are wide range of feedstuffs that have shown the potential to support virus survival.
Final thoughts
U.S. pork is not affected by the ASF outbreaks in other countries and pork is still safe for consumption.
It is important that consumers understand that ASF is a highly contagious viral disease impacting only pigs, not people, so it is not a public health threat nor a food safety concern.
"Pork is safe to eat. We would hate for consumers to get confused about something that is a pig-specific disease," Cunningham said.