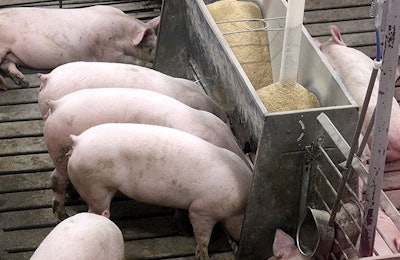 The China Feed Industry Association (CFIA) is considering lowering crude protein and soybean meal content in pig and chicken feeds, as the trade dispute between China and the U.S. has reduced supplies and increased soy prices.
CFIA said the move will "reduce consumption of raw materials for feed, and reduce environmental pollution from animal farming."
A previous Reuters report said Chinese pig producers could safely lower their soybean rations in pig feed by about half without harming the animals' growth, because Chinese pig diets have included more soy than necessary.
Although China has increased soybean imports from countries like Argentina and India, it still may be unable to produce enough soybean meal to feed its 400,000 pigs and other livestock and poultry without imports from one of its biggest suppliers, the U.S. In May, Bunge Ltd.'s CEO Soren Schroder told Bloomberg that China had stopped buying soybeans from the U.S. and was instead ramping up imports from Brazil and Canada. China imports more than 90 million tons of soybeans per year.
CFIA is accepting public comments on the measure until October 15. The Chinese government must approve the new guidelines before they can be implemented.
Trade tensions between the U.S. and China have been elevated throughout most of 2018, with China targeting U.S. agricultural commodities such as soybeans and pork with additional tariffs. In August, one of the first U.S. soybean-carrying ships to arrive in China since the escalation of trade tensions between the two countries unloaded 70,000 tons of the oilseed.
China is also dealing with an outbreak of African swine fever, which has resulted in the death or culling of thousands of hogs across the country. The latest outbreak this week was in Tianjin and killed nearly 200 pigs.