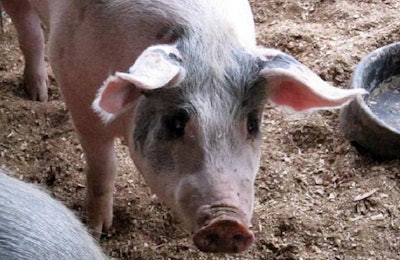 Classical swine fever has been detected in pigs in Brazil, according to a Reuters report.
The outbreak was confirmed on October 6 in the northeastern state of Ceará on a family-owned pig farm "with no links to commercial establishments." Brazil's agriculture ministry said the report will not have an effect on the trade of pork meat from the region, and the country's meat trade group ABPA said there was no risk to the country's pork production.
"There is no trade of pork products out of Ceará destined for southeast, midwest and southern (Brazilian) states, which minimizes the contamination risk further," ABPA said.
Less severe than African swine fever
Classical swine fever (CSF) is significantly less severe than African swine fever, which has been spreading across China in recent months. CSF does not infect humans but can cause large economic losses to the pig industry.
CSF is highly contagious and is caused by a Pestivirus that moves from pig to pig by direct and indirect contact. CSF can be spread by contaminated feedstuffs, trucks and implements used in animal husbandry. CSF virus survives 10 weeks in muscle at room temperature, in cured uncooked pork for up to 6 months and for years in frozen pork. The feeding of raw garbage to pigs is major means of spread. Airborne pig to pig transmission is generally not important, but mosquitoes, flies and wildlife can transmit the virus mechanically.