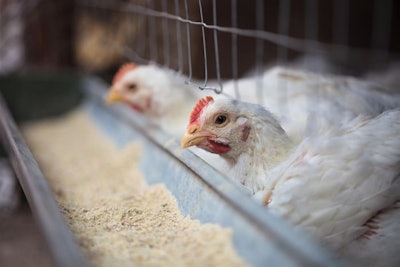 Preliminary data from the European Feed Manufacturers' Federation, FEFAC, point to growth in the cattle and poultry sectors, compensating for a decline in the output of pig feeds. The data cover industrial compound feed production in EU member states excluding Greece, Luxembourg and Malta.
Poultry feeds remained the greatest contributor to overall feed production in the EU in 2017, reaching 54.4 mmt, according to the FEFAC estimate. This represents an increase of 1 percent from the previous year's figure of 54.2 mmt. The overall figure masks variations in the fortunes of the poultry sectors between the member states. While Polish poultry feed output increased by 7 percent for the third successive year, outbreaks of highly pathogenic avian influenza (HPAI) in the duck flocks of France and Hungary last year negatively impacted feed producers in those countries.
The end of milk quotas in the EU in 2015 led to contrasting patterns of development in the dairy sector between member states subsequently. According to FEFAC, last year saw consolidation in these trends, with increases in production of between 5 and 8 percent in Belgium, Poland and the U.K. Dairy farmers in Spain and Portugal purchased more dairy concentrates in 2017 as unusually dry weather reduced forage availability, and a recovery in milk prices in the EU generally meant farmers could return to purchases of compound feeds that optimize milk production.
Lower output in pig feed sector
Pig feed was the one leading sector to reduce output to 49.9 mmt—a decline of 1 percent from the 50.3 mmt achieved in 2016. FEFAC points to a similar reduction in pig meat output in the region last year, adding that the strong global demand, particularly in China, helped bring about a recovery in market prices but not in EU production. In Eastern Europe, the pork sector continues to be held back by the continuing threat of African swine fever (ASF).
Looking ahead to 2018, FEFAC is "relatively optimistic" about the prospects for EU compound feed production, and estimates a further 0.5 percent growth for the year. However, it highlights the continuing threats of diseases such as HPAI and ASF on the poultry and pig industries, respectively, which could dramatically impact feed production as well as impeding exports. Legislation to reduce environmental emissions and to improve animal welfare may also lead to a cut in animal feed output, FEFAC warns.
EU feed production is also forecast to rise in the medium term, according to a recently published outlook from the European Commission. Including also low-density feed ingredients such as roots and tubers, its estimate is for a 4 percent increase in output from the 2017 level to 275 mmt by 2030.