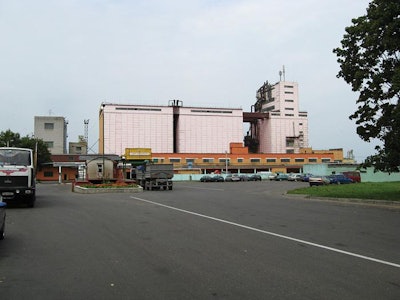 In 2016, the purchasing prices for grain in Belarus dropped to the lowest level in 28 years. Due to the state regulation in country's economy, this has significantly cut the profitability of most Belarusian feed mills. Feed producers in Belarus also have to deal with several other problems, such as a falling demand for feed and an epidemic of non-payments.
However, the outlook on the market's future isn't as gloomy as it may seem.
Solution lies with grain
According to the country's State Statistical Service, the Belarusian grain harvest exceeded 8 million tons in 2014 and 2015. In 2016, this figure dropped to 7.5 million tons, but grain reserves still remain high. Over the past few years, Belarus has been using 5.5 million to 6 million tons of grain on average per year for feed production.
Nikolay Popkov, the general director of Scientific Center on Animal Breeding of Belarus Academy of Science, notes the high grain inclusions, about 70 percent, are one of the main problems facing its feed industry.
In his opinion, the industry should replace grains with alternative ingredients to save the country up to 1.5 million tons of grain per year. This will also cut industry dependence on price fluctuations in grain markets and make Belarus livestock production much more competitive at the foreign markets.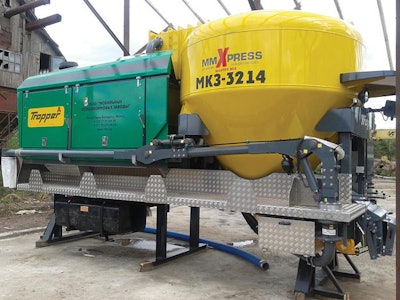 Many livestock producers who, under normal circumstances, would have purchased feed, have begun trying to produce their own compound feeds. | Mobile Feed Mills
Cheaper grain, cheaper feed
The Belarusian economy has a high level of government involvement and the country's agricultural industry is not an exception. As a result, feed mills do not have a lot of freedom in terms of pricing policy, and in particular they basically are not able to keep the prices for feed high when grain prices are falling.
As explained by Anatoly Truhanovich, main shareholder of Minsk-based Pukhovichi Feed Mill, the time of large grain harvests in general brings the country's compound feed industry more problems than benefits. He said the falling price for grain is dragging down prices for grain processing products, including compound feed.
"Our facility always lays the same margin down into the product price," Truhanovich explains. "This means that at the conditional price of, for example, $100 per ton of grain, the margin of 15 percent brings us one profit, while with $50 per ton, it brings us quite different profit, much lower."
In the first half of 2016, the purchasing price for wheat in Belarus was US$91 per ton; the purchasing price for feed barley was US$52 per ton. Although in the second half of 2016 prices rose on average nearly 30 percent, they remain the lowest level among most Commonwealth of Independent States (CIS) countries.
The lack of payable customers
However, even if feed mills had the option to keep prices high, in the past year, most poultry and pig farms in Belarus faced a lack of financial solvency.
"The weak financial performance of agricultural organizations, poultry and pig farms has undermined the solvent demand for compound feed production in the country" in 2016, Truhanovich says. "Due to the debts on previous supplies, feed mills are refusing to deliver new feed to customers. In addition, numerous customers started to produce feed on their own capacities."
As explained by the director of another Belarus feed mill who wished to not be named, the non-payment crisis has brought a lot of problems to the market.
In particular, he explains that his facility now accounts for delayed payments in the amount of "millions of rubles," which equates to many thousands of dollars.
Even reliable customers have no money to pay on time, the anonymous source says. He estimates the share of delayed payments at 70 to 75 percent, saying that this problem has gained momentum because some of the farms have begun making their own feed or purchasing feed from "half-legal, unreliable firms."
In general, this feed, which market participants describe as "handicraft," has poor quality and does not bring a lot of productivity to the business. However, amid a harsh financial situation, it often becomes the only possible option for agricultural organizations even though it reduces feed conversion ratio in the industry.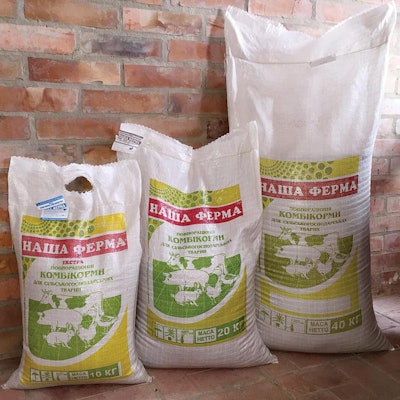 Belarus compound feed formulations are comprised of more than 70 percent grain. | Nashs Ferma
The load of mills remains low
The use of "handicraft" feed also reduces the demand for the country's feed mill production, so as a result they have to operate only at partial capacity.
According to Truhanovich, his facility now operates at less than 50 percent capacity. This situation will likely not change in the near future because domestic demand has no chance to grow while any export supplies, including Russia and Ukraine, have no economic feasibility.
"Our neighbors also have an oversupply of grain and collapsed prices for compound feed," Truhanovich says. "In addition, Russia's feed mills have a lower compound feed production cost due to the cheaper electricity and gas, softer loans and lower taxation of the industry."
In general, production capacity in the country's feed mills range between 45 and 75 percent. This figure is fair only for independent feed mills.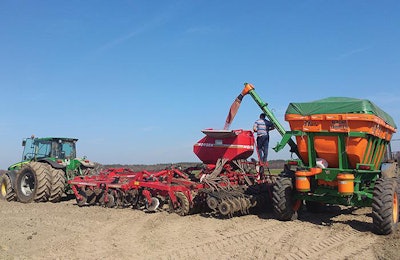 Belarus harvested more than 8 million tons of grain in 2014 and 2015. | Olhovskaya Agricultural Organization
Is there a light at the end of the tunnel?
In general, Belarusian feed mill managers believe the industry will stabilize only after the country's general economy situation improves, specifically the end of the non-payments crisis in the poultry and pig industries and a decrease of the feed industry's fiscal burden.
Over past few years, the Belarusian feed industry has experienced some support from backyard farms, Truhanovich says. The same economic crisis forces the country's citizens and private farmers to increase the number of agricultural animals, but this segment now accounts for only 5 percent of total demand for compound feed in Belarus — so slight the growth here could not provide significant support to manufacturers.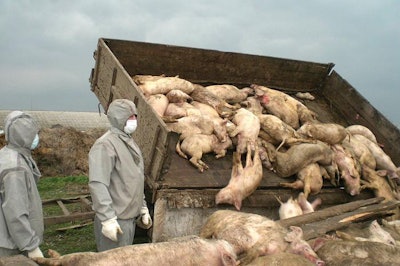 In 2013, Belarus had to cull nearly 20 percent of its pork herd due to African swine fever, which undermined the demand for feed. | Ministry of Agriculture and Food of Belarus
At the same time, the Ministry of Industry and Food of Belarus expects some 15 percent rise in demand for feed in the country, primarily due to the rise of production performance in the poultry and pig industry.
Pig farms in Belarus are trying to restore pig population to the level of 2013, prior to epidemic of African swine fever (ASF), which forced authorities to cull nearly 20 percent of pigs. At the same time, the Belarus poultry industry also enjoys some rise of investments as the government hopes to establish some exports over the coming decade.