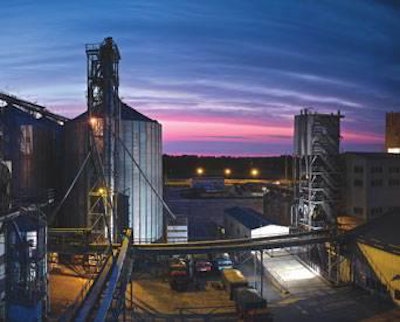 Continuous improvement is the primary mission of Russian pig breeder Znamensky Swine Genetic Center, a division of Russia's largest agribusinesses ZAO "AVK EXIMA." The center aims to provide pork producers with genetics for commercial hybrids with "high production rates and high quality meats" – and it views its feed to be one of the key elements in delivering on this vision. The firm's 240,000 head pig herd is fed by one feed mill located in the Orel region of Russia.
The Orel facility runs two independent feed production lines manufacturing 30 metric tons of pelleted feed per hour. All of its nine complete feed formulas, which are age- and sex-specific, are pelleted. While it has a production capacity of 250,000 metric tons annually, it produced 150,000 metric tons last year.
The grain game
It is Znamensky's belief that it can only achieve consistent feed quality by controlling all of its incoming raw materials.
"Our greatest challenge is to maintain the high health status of our pig herd," says production manager, Alexey Garin. "We are selling genetic pigs to customers all over Eurasian so we must invest a lot of our efforts and money to their health status. Our local pig producers are looking for high-quality pigs from local suppliers, specifically, from us as the market leaders in the region. We would not be able to produce high-quality pigs without high-quality feeds."
In the wake of African Swine Fever (ASF), Znamensky made several important decisions regarding the biosecurity of its feed production. For example, it phased out all animal-origin feed ingredients and it does not buy raw materials from the regions impacted by ASF.
While it does purchase its premixes and imports some ingredients (soybean meal, feed additives and synthetic amino acids), the macro grain ingredients (wheat, barley, oats, corn, peas and soy) used in Znamensky's feed are sourced locally or from other regions of Russia (e.g. full-fat soybeans, sunflower meal and oils).
The Orel feed mill's current storage capacity is 100,000 metric tons, which was expanded to add an extra 136,000 metric tons in December 2014.
"The Orel region produces around 2 million metric tons of grain, but the region's total storage capacity is only 1.2 million metric tons," Garin explains. "The renovation and modernization of the current storage facilities is also crucial because most of the available storage barns are not up-to-date to meet with modern needs. [Znamensky's] second storage facility equipped will be equipped with modern grain drying and cleaning equipment."
By sourcing the bulk of its grain locally, the company may save money, but then it is also susceptible to the issues impacting regional crops.
"Due to high concentration of various mycotoxins, the biggest challenge was corn quality this year," says Garin. "Just T-2 toxin alone was twice as high as the recommended maximum. Because of that, we made a decision to decrease the inclusion of corn in our feeds — especially for the most sensitive groups of pigs and to increase our mycotoxin binder inclusion rate."
Mycotoxin management
Knowing its vulnerability to the threat of mycotoxins, the breeder sought to mitigate the risk.
"Issues with raw material quality always happen — even when we use our own-grown grains," explains Garin. "We always have clearly understood that and have tried to do our best to solve the problem. Sometimes we were successful and sometimes not. While we never had any major mycotoxin problems, we wanted to improve our system and confidence."
To do this, Znamensky implemented a mycotoxin risk management program in December 2012.
"We chose Alltech's MIKO program because we've had a long-lasting relationship with the company and trust its expertise," Garin says. "The first MIKO inspection of the feed mill was made by a mycotoxin expert, Dr. Swamy Haladi."
During this inspection, Haladi checked the production line and took samples from various places for further analysis on mold content. Based on the analysis, he identified Critical Control Points (CCPs) where mold concentrations were dangerous in terms of the risk of mycotoxins production and possible contamination of its feeds. After that, a specificly customized MIKO plan for the feed mill was suggested, including methods of control of mold growth at CCPs as well as methods of evaluation of the efficiency of the efforts.
Once implemented, the goal was to ensure the feed mill's cleanliness and to minimize the "hot spots" that could harbor various molds visible and visible to a naked eye, i.e. walls, floor and interior of feed mill equipment. The MIKO action plan included specific, regular cleaning procedures for the CCPs identified, as well as the use of mold inhibitors for the long-time grain storage silos with limited access for physical cleaning.
The MIKO plan also contained a schedule for disinfection procedures in the production area.
"In order to track the efficiency of our efforts and also to be able to apply changes to our initial plan, if necessary, our MIKO plan suggested regular analysis for mold counts of dust samples and surface swabs taken from the CCPs," Garin says. "At the same time, we analyzed our stored raw materials and feeds produced for mycotoxins with Alltech's 37+ testing at their U.S. analytical services lab."
Znamensky evaluated its efforts at three selected control points (Figure 1).
"After implementing MIKO we improved our feed safety in terms of mycological contamination," he says. "We now find dramatically less contaminants both at CCPs and in our feeds. Also, now we are tracking the dynamics of mycotoxins in our raw materials so we know for sure how to use these raw materials in order to achieve best performance results."
Program in action
According to Alltech Brazil product manager, Camilo Beck, the MIKO program is a tool for identifying nonspecific animal health and performance issues and to reduce the risk of disease and future contamination.
"We analyze for mycotoxins, bacteria, heavy metals, peroxides and other important quality control and related illnesses items," Beck explains. "In addition to presenting the findings, our MIKO team provides a practical report on how to manage the critical control points and the training needed. The inclusion of mycotoxin adsorbent is important, but it should be just one part of an effective mycotoxin management program. An ongoing, proactive feed management program is essential and can result in savings for the company."
Garin advises feed mills take their mycotoxin management programs seriously and thoroughly follow the recommended protocols in order to benefit from its "results in a very cost-effective manner."