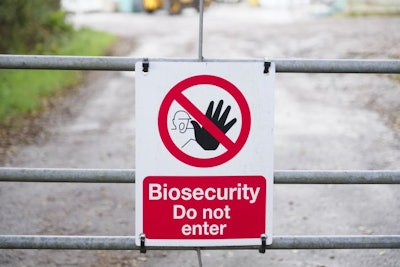 Bill aims to limit government overreach, increase biosecurity
Missouri's House of Representatives has passed a bill that would limit the number of agencies allowed to enter agricultural facilities, with the dual purposes of limiting government overreach and increasing biosecurity.
HB 574, sponsored by Rep. Kent Haden (R-Mexico), gives the Missouri Department of Agriculture, the U.S. Department of Agriculture, county sheriff's departments and "any other federal or Missouri state agency with statutory or regulatory authority" the "exclusive authority" inspect agricultural grounds or facilities and says no other entity may inspect an agricultural facility "unless requested by the owner."
Haden said one reason for the bill is unauthorized groups, such as animal rights activists, that have entered agricultural facilities and demanded to inspect them, according to a report. The bill aims to provide clarity about who is authorized to inspect facilities.
Another goal of the bill is to increase biosecurity by limiting the number of visitors to an agricultural facility.
Rep. Tracy McCreery (D-St. Louis) objected to language in the bill, although she said she is not opposed to its overall intent. She attempted to pass an amendment to the bill that would change "unless requested by the owner" to "without consent of the owner," but the amendment failed.
"Not all things that happen on agricultural land and on farms are related to the animals," McCreery said. "There are other things that can happen. This law, as written, is so narrowly focused, I'm concerned that it would prevent law enforcement from being able to do their jobs."
The bill passed the House on a 109-43 vote and now moves to the State Senate for consideration.