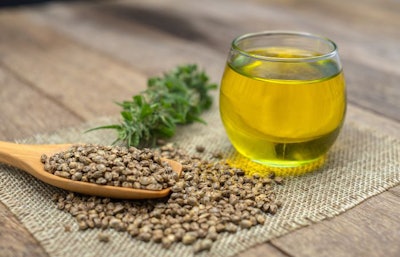 Kansas hemp industry plans to continue talks on legalizing hemp in animal feed after initial bill fails to advance
Although their bill has met some recent setbacks, hemp advocates in Kansas say they will continue to push for the state to allow hemp in animal feed.
The Kansas House of Representatives introduced and held committee hearings on HB 2168, a bill to authorize hemp in livestock feed and pet food, in mid-March. However, the Kansas Department of Agriculture opposed the bill, which does not seem likely to move any further in the legislative process this year, according to Sarah Stephens, CEO of hemp grain processor Midwest Hemp Technologies and one of the bill's backers.
Stephens said proponents of the bill plan to continue to engage in stakeholder meetings in hopes of running a compromise bill next year that might win over the support of the Kansas Department of Agriculture (KDA), which has agreed to meet with industry stakeholders this summer.
"We've been in stakeholder discussions with the KDA for over a year, so we were disappointed that they couldn't support the current version," Stephens said. "But it looks like everyone is committed to working toward that next year."
The version of the bill run this year, which sought to permit the inclusion of hemp in all animal food and to ease restrictions on the production of hemp in the state, may have been too broad to win support, Stephens said. They plan to focus next year on allowing hemp in feed for horses and companion animals, and potentially in chicken feed if the Association of American Feed Control Officials (AAFCO) clears the use of hemp seed cake for layers by the time the Kansas legislature reconvenes.
Stephens believes Kansas could become a leader in hemp production — the state was once one of the largest producers of industrial hemp, and the plant still grows wild in the state "with no irrigation, pest control or even planting," she said. Besides Midwest Hemp Technology, there are two other hemp processors located in the state that would create byproducts for potential use in animal feed if feeding hemp to animals was allowed.
However, the state's hemp industry struggles on account of limited market access, Stephens said. Kansas has not legalized medical cannabis and maintains restrictions on the production of industrial hemp that is not grown for the extraction of cannabinoids such as THC or CBD. Last year, the state harvested only 530 acres of industrial hemp, Stephens said.
"We're really trying to get the governor's ear and the administration, mainly the KDA, the secretary of agriculture and a broad stakeholder network, for example feeding companies in the state," she said. "There is a feed shortage, so it's to everyone's benefit to figure out how to make this work."