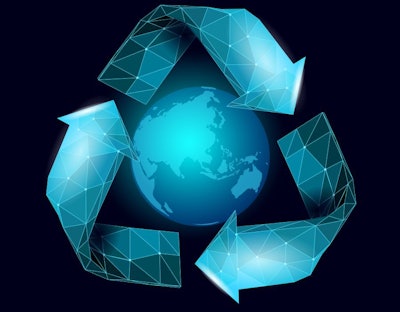 The partners believe nutrients from recycled sewage could help bring price stability to animal feed markets
A newly formed partnership in Europe is set to study whether nutrients from recycled sewage are safe for use in animal feed.
EasyMining, a subsidiary of waste management company Ragn-Sells, has teamed up with the Swedish National Veterinary Institute to assess the potential risks of using calcium phosphates extracted from sewage in animal feed. EasyMining has already shown the recycled phosphates can be digested by pigs and chickens, and the company hopes a positive result from the risk assessment will persuade the European Commission to allow recycled nutrients in animal feed, according to Sara Stiernström, product manager at EasyMining.
"The biggest hindrance right now is that European legislation is closed to everything that comes from urban waste and waste water. It doesn't matter what quality you have, and that's a huge problem for the circular economy," Stiernström said. "We believe to open the legislation, we need to prove that it is safe [to recycle nutrients from wastewater], and this is a step in that direction."
The ash that is left behind when sewage is incinerated is very rich in phosphorus as well as other potentially useful minerals and nutrients, Stiernström said. EasyMining, which is a product-focused company that aims to monetize nutrient recycling, has developed a chemical process that can extract that phosphorus in the form of a highly pure calcium phosphate, while leaving behind potential contaminants, Stiernström said. Other byproducts from the process, including aluminum and iron, could also be sold.
The company could sell the calcium phosphate for use in fertilizer, Stiernström said, but would like to see it utilized in animal feed on account of the high quality and purity of the product. Although their trials have shown that it may be slightly less digestible than other forms of phosphorus, EasyMining believes their process could help create resilience and decrease volatility in animal feed markets.
There is only one active phosphorus mine in Europe, which means most of the phosphorus used within the European Union must be imported, Stiernström said. This has exposed feed producers to price volatility, particularly after the onset of the war in Ukraine, she said. But sewage, unlike foreign mines, will always be accessible — and could provide the industry with a more stable supply of phosphorus.
The product would also help reduce the environmental impacts associated with mining phosphorus, Stiernström said.
EasyMining plans to build two phosphorus recycling plants — one in Sweden and one in Germany — within the next three years. If the EU does not approve the use of recycled phosphorus in animal feed before the plants are operational, Stiernström said the company would pursue selling its calcium phosphates in countries with more amenable regulatory processes, such as Canada, Japan or Brazil.