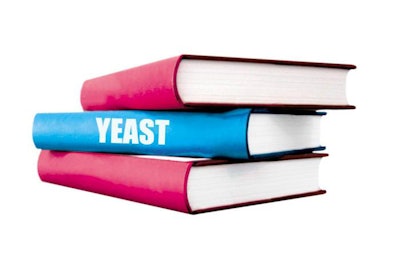 According to an article in the journal Animal Feed Science and Technology, "viable yeast products are added to animal feeds for their potential probiotic effects, with active dry yeast being the most common viable yeast used in the animal feed industry. Active dry yeast is also found in several direct-fed microbial feed additives."
Read on to find out 3 things you didn't know about yeast derivatives.
1. They can benefit pig health
Enzymes, vitamins, saccharides and other metabolites produced from yeast fermentation may benefit the growth, metabolism and health of pigs. Yeast culture and cell wall products containing mannanoligosaccharides (MOS) and beta-glucans may benefit the animal because MOS is a class of carbohydrate that are not absorbed or digested in the small intestine and reach the colon. In the colon, oligosaccharides are readily fermented by the intestinal microflora, and changing the intestinal microflora could be beneficial because it stimulates intestinal immunity.
Several studies have investigated the action of yeast cell wall components on the immune function of weaned pigs, showing that yeast cell wall components (e.g., mannans) may modulate the immune response of pigs to maintain animal health and improve growth performance by reducing pathogenic bacteria and improving gut health. However, the performance response of piglets to dietary yeast or yeast culture has been variable. Finally, live yeast supplementation may improve the performance and health of piglets by altering the immune system and maintaining a beneficial intestinal environment.
Yeast, any form that includes the outer cell wall, is perceived as a foreign organism that is periodically sampled by the gut immune system. As it happens, it is recognized as an antigen for which antibodies are produced, leading to increased blood and milk immunoglobulins. This has been shown to improve suckling piglet performance.
2. They may have antioxidant properties
One study reviewed the literature on feeding live yeast and yeast cell wall supplements to food-producing animals and noted that yeast cell wall components interact directly with immune cells, bind bacteria to prevent colonization of pathogens, may possess antioxidant and antitumor properties, enhance growth performance, and alter metabolism.
3. They can improve health in aqua species
Studies have generally shown that the addition of live yeast may improve fiber digestibility, prevent pathogen growth, produce antibacterial compounds, and modulate the immune system. Several studies that evaluated the immune responses of finfish and shellfish fed probiotics indicated that these compounds directly activate the innate immune system by interacting with pattern recognition receptors, as well as being involved in microbe associated molecular patterns to activate innate immune cells.