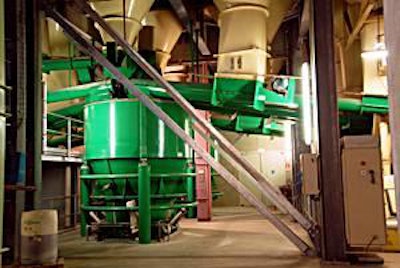 The Alifel feed plant produced its first commercial ton on January 25, 2002, and was conceived and built during what the French used to call "the second BSE (Bovine spongiform encephalopathy) crisis." In general, the early 2000s was an overwhelming period for food security and bans – the big "food fears" period. It was really a "no" period – no raw material from animals, no Salmonella and no antibiotics as feed additives.
In many ways this was the perfect time to open a new, secure feed plant. Situated two hours west of Paris by car at Loué (the native village of the "Label Rouge Loué chicken"), the plant is now 10 years old.
Pre-construction events
Feed security had been on the minds of local producers well ahead of Alifel's construction. In 1996, the first boat carrying genetically modified organisms arrived in Europe. The reaction from area producers was to refuse any GMOs. "We're not feed producers, but poultry producers who want to be sure about production factors, and feed is one of the main factors in cost or meat quality," explained Yves de la Fouchardière, director of Cafel, the Loué farmers co-op that owns Alifel. "There had to be a break in 1996; public suspicion was growing as feed suddenly appeared as the black sheep of the animal production chain family."
As a result, farmers in the area decided not to improve the existing feed supply chain, but to do the opposite: they designed their own feed production system. This way, the entire chain would support the feed production cost.
Secure from the outset
Alifel was conceived as secure from the beginning, with Hazard Analysis and Critical Control Point concepts applied to even early drawings of the plant. For example, the hygienic condition of every load is analyzed before entering the plant to avoid any Salmonella from entering the facility.
The facility was designed to avoid cross contamination between additives and raw materials, as well as bacterial contamination. For this reason the plant is literally separated into two parts by a giant concrete wall. The first "half" of the plant is dedicated to raw material. This includes reception to main mixing – stocking, conveying, milling (for those that need it), dosage of micro and macro ingredients, and oil production (when rapeseed is cheap enough, the plant transforms its own grains).
The second part of the plant is the "heat treatment" zone. It can produce either mash feed, or pellets and crumb feed.
For the pellets or crumb feed, the heating process is completed by the pellet mill. After that comes cooling, crumbling, sieving and coating (if needed), and for mashed feed, heat treatment is delivered by thermic mixing followed by drying and cooling. Then, any heat sensitive ingredients are added at the final mixing. The plant has a total of seven thermal treatment lines. One line is fully dedicated to breeders feed; a number of lorries are also dedicated to breeders feed.
All final products go to the bulk station and are loaded in disinfected lorries to avoid any bacterial recontamination at the delivery stage.
Retention areas avoided
To increase security, each piece of machinery in the plant was designed to avoid retention areas. This can be clearly seen at the bottom of elevators. The engineer who designed the plant, J.P. Domain, had a degree in aeronautics and was very concerned about air management for hygiene reasons. Filtration appears larger than needed, but no dust can be seen inside.
Logistics are organized through Axiodis software (Optilogistic) that gives the plant production orders regarding what is needed at the farms. This includes specifications for lorries, as all trucks can't enter all the farms.
Farmers are encouraged to order in a specific way – 95 percent of the orders are given 48 hours in advance, mainly via the Internet. Tonnage is verified based on the number of animals and their stage permit to avoid any feed returns. Some feeds are produced only on certain days of the week. For example, first day feeds are only produced on Mondays, and duck feed is only produced on Tuesdays. Since the brand is connected by specification with a territory, the farmers are located within a radius of 50 km of the plant.
Purchasing strategy
"As we are dedicated to poultry feed, we buy fewer raw materials than other French feed plants which produce a greatest number of feeds," says Karine Beauchène, Alifel's buyer.
Nevertheless, Beauchène has to supply raw materials for about 180 feeds as the French market is very segmented regarding poultry products.
Since the specification of Loué products (fully vegetal and mineral) is written on the labeling, it has become part of the brand identity. In France, labels stating "no GMO in feed" have only recently become required. "We made the decision to avoid GMOs quite early," says de la Fouchardière. "To be sure of our suppliers, we've been part of a secure supply chain regarding contaminations with Brazilian suppliers and other French feed producers (Imcopa, Solteam, Agrifeed and Cargill). We also signed contracts for cereals to fix the price of part of our needs as early as 2003. That was before the big raw material crises and increased volatility," he adds. Now, nearly 80 percent of wheat and corn are secure through contracts, and nearly all cereals come from less than 100 km around the plant.
Cost effectiveness
"We designed the plant to secure the feed quality, but we also wanted to control costs through our raw material purchasing and plant operations," says Hervé Sohier, production director. "For example, thermal treatment is energy consuming, so we look very closely at boiler consumption (6t/h) and no load-running engines. Double lines give maintenance prevention the opportunity to avoid productions stops. We also think about spare part management to avoid money trapped in storage. Optimization through organization begins with reception days – for example, we dedicate Monday to wheat and Tuesday to corn reception; as a result we can dedicate our reception pits to avoid contamination. We also choose weight and not volume control to be more precise, even if it is more costly.
"We're not a profit center but a cost center, so our job is really to cut all costs but without forgetting that prevention is always better; that investment reveals its value day after day."