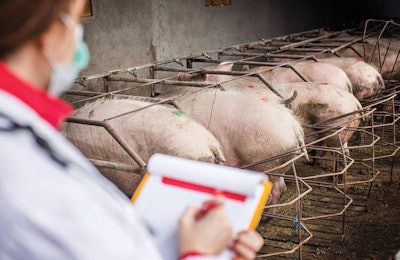 Over the past two months, new outbreaks of African swine fever have been recorded in seven provinces of South Africa.
Since the end of August, South Africa's veterinary agency has officially registered a further 13 African swine fever (ASF) outbreaks with the World Organisation for Animal Health (WOAH).
Of these, 10 were in an outbreak series that covers Gauteng, KwaZulu-Natal, Free State, North West and Mpumalanga.
With starting dates between June 7 and October 4, one outbreak involved a village herd of 500 animals, and the rest were on farms. Where the information is provided, each outbreak involved between six and 209 pigs.
This month, first ASF cases of the disease were registered in Eastern Cape since April. According to the WOAH report, 16 pigs died out of a village herd of 5,000 animals.
Part of a separate disease wave, there was a second outbreak at a premises in KwaZulu-Natal in early September. More than 100 of the 400 pigs at the farm died.
Finally, a village herd of 150 animals in Western Cape was hit by ASF in early July. According to the recent WOAH notification, 46 of the pigs died.
Since April 2019, South Africa has confirmed with WOAH 192 ASF outbreaks. Directly involved through mortality of culling have been around 70,700 domestic swine, based on these reports.
All the outbreaks have occurred outside the country's ASF-free zone.
ASF 'resolved' in Zambia
In the southern African state of Zambia, the ASF situation has been resolved.
This is according to a recent notification to WOAH, and it comes after two outbreaks at adjacent veterinary camps in early March. Affected were a total of 31 pigs.
In the meantime, no further cases of the disease have been reported in Zambia.
Disease situation deteriorates in Nigeria
Around one month ago, Nigeria's animal health agency reported to WOAH that the southern states of Lagos and Abia had become infected with ASF. According to the notification, morbidity and mortality of pigs in these states had risen from level 1 (of 5) to level 5.
In August, The Nation reported a sudden jump in the disease to Oyo and Ondo, two states in the southwest of the country. At the time, those with businesses in the pig industry called for significant improvements in disease control measures, such as a ban on pig movements without health certification while outbreaks are ongoing.
At the time, the active ASF wave was spreading to Ibadan, Osun, Ogun and Lagos states, while remaining active in Oyo and Iwo.
ASF has been circulating in the West African state since 2020, according to the nation's pig industry body. It has led to the culling of 200,000 pigs, and losses estimated at NGN10 billion (US$23 million).
View our continuing coverage of the global African swine fever situation.