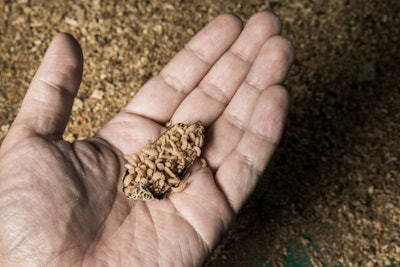 3-year project aims to improve livelihoods of smallholder chicken, fish and vegetable producers in Africa and reduce effects of climate change using black soldier fly larvae
The Norwegian Agency for Development Cooperation (NORAD) has launched a three-year, $7.5 million pilot project in Africa to use black soldier fly (BSF) larvae to produce chicken and fish feed in Ghana, Mali and Niger, according to the Ghana News Agency.
The project aims to improve urban sanitation, address biowaste and mitigate climate change by turning vegetable, fruit and slaughterhouse waste into chicken and fish feed or organic fertilizer using BSF. The overall objective of the project is to improve the livelihood of smallholder chicken, fish and vegetable producers and ultimately reduce the effects of climate change. It is being piloted in Nsawam, Ghana.
May-Guri Saethre, senior adviser at NORAD, said chicken and fish farming were among the most rapidly expanding areas of African agriculture and that the rapid growth of the sector demands increased efforts to find alternative feed sources that are affordable and do not use additional land.
More than 90% of waste generated in Africa is disposed of at uncontrolled dumps and landfills, according to Mohammed Hardi Tufeiru, deputy ministry of food and agriculture in charge of livestock.
BSF larvae can replace fish meal
A recent study in Kenya found that BSF larvae can successfully replace less sustainable fish meal in feeds for aquaculture species.
After a four-year research project, scientists concluded that BSF larvae are a suitable alternative protein in local fish feeds. Previously, aquafeeds in Kenya were based on a local fish meal known as omena. While this is a high-quality ingredient for fish feeds, it is relatively expensive. As well as presenting the threat of over-fishing, this local fish meal is of variable quality. Furthermore, unscrupulous dealers have been known to dilute omena with non-nutritional or harmful substances such as sand or ground shells.
Previous work seeking alternatives to omena had been unsuccessful. However, a collaborative project investigated the potential of BSF larvae in Kenyan aquaculture. Research was conducted by the Kenya Marine and Fisheries Research Institute (KMFRI) and the International Centre of Insect Physiology and Ecology. Funding was provided by the World Bank through the Kenya Climate Smart Project (KCSAP).